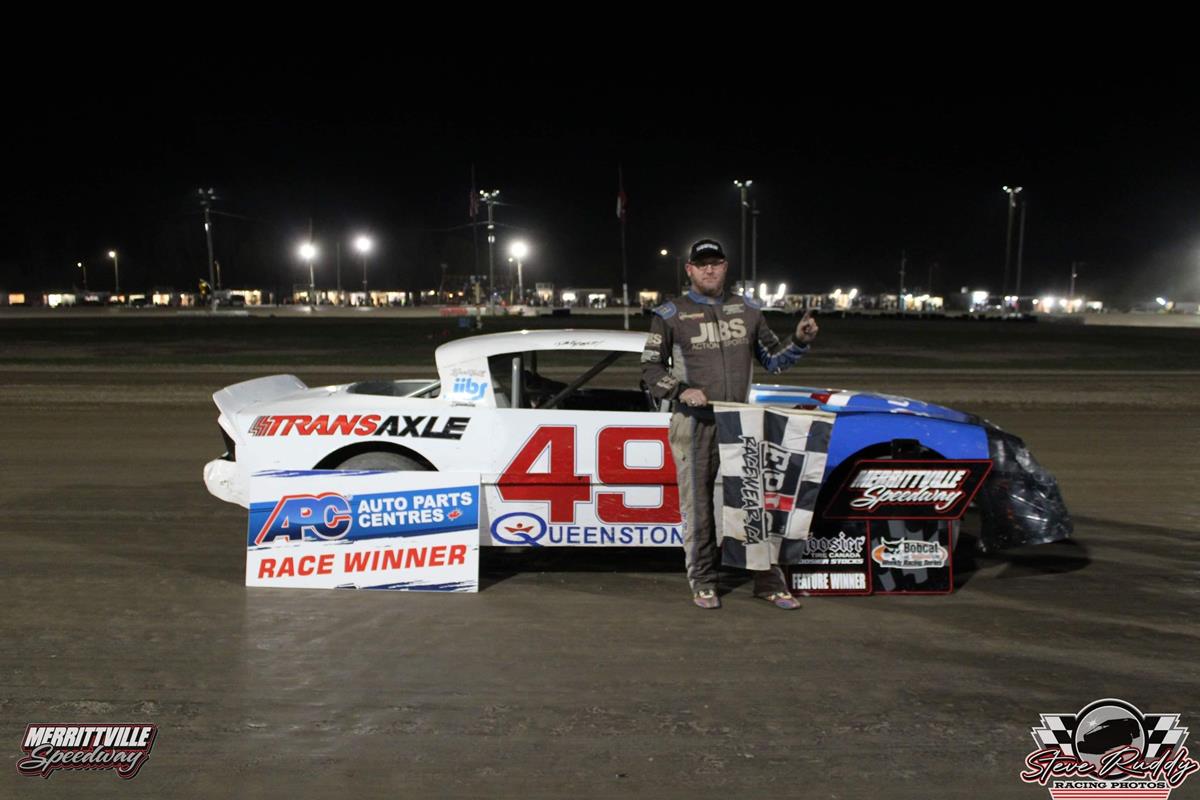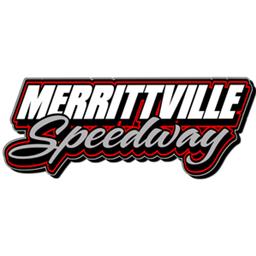 5/13/2023
Merrittville Speedway
---
WILLIAMSON, CHEVALIER, BAILEY, BEGOLO AND ROTHWELL WIN BIG ON AUTO FX GRAPHICS AND SIGNS NIGHT
THOROLD, ONTARIO (May 13th, 2023) … 5 feature winners joined over 170 plus kids as big winners on Auto FX Graphics & Signs Big Bike Giveaway night at Merrittville Speedway. Mat Williamson of St. Catharines, Ontario made it back-to-back wins in the Corr/Pak Merchandising 358 Modified features at Merrittville, and Chad Chevalier of Port Colborne, Ontario scored the win in the Right Choice Auto Leisure DIRTcar Sportsman feature. Dave Bailey of Hagersville also joined Williamson in winning back-to-back in the Hoosier Stock feature and Brent Begolo from Thorold, Ontario claimed the win in the Rona Doidge Modified Lites feature. Welland, Ontario's Kyle Rothwell claimed the win in the Vansickle Pet Valu/PV On the Lane 4 Cylinders.
The Corr/Pak Merchandising 358 Modified feature began with Boyd MacTavish and Todd Gordon on the front row. Mat Williamson quickly used his favourable 3rd starting spot to quickly move to the lead. The early laps out front became incredibly important for Williamson, who would open a large lead over Ryan Susice. In lap traffic, Williamson's lead began to dwindle but Susice struggled negotiating the same lapped cars and would eventually be passed by Gary Lindberg. Lindberg had blistering speed but ran out of time, and Mat Williamson made it back-to-back wins to open Merrittville's 72nd season.
Noah Mamo and Chad Chevalier made up the front row for the Right Choice Auto & Leisure DIRTcar Sportsman feature Saturday night. The race would struggle to get going with cautions frequenting the first few laps. Most notably, last week's winner and 2022 Champion Cody McPherson brought out the caution when his engine appeared to let go 4 laps in. Chevalier controlled many of the early restarts and would drive to the checkers mostly uncontested. Jay Mallory and Rob Knapp had a great battle for second, with Mallory prevailing.
Mat Williamson wasn't the only driver to go back to open the 2023 season. In the Hoosier Stock, Dave Bailey scored the victory after a very disjointed opening half of the event. On lap 1, Donny Lampman was turned by Jason Fontaine. Lap 2 saw the caution fly again when Mason Smith made contact with Trevor Want bringing out the yellow for the 2nd time in as many laps. After the field settled in and logged some laps, Bailey moved up through the field from 6th starting spot, to battle for the lead once again with Rob Murray. However, this week's battle was much quicker. Murray would get another shot at Bailey with three laps to go when Tyler Lafantaisie brought out the yellow with a spin. Murray couldn't get the traction he needed on the restart to challenge Bailey, and Bailey claimed the win over Murray, Ryan Dinning, Chris Hale, and Pete Reid.
Tyler Winger and Leroy Buscumb started the Rona Doidge Modified Lites feature from the front row and Winger really controlled most of the race. Last week's winner Josh Sliter fell out of the race early, as did Chris Watson. With two laps to go, Rob Misener was involved in an incident with 2 laps to go, setting up a green-white-checker finish. In the short run, Brent Begolo was able to slip passed Winger on the low side of turn 4 to steal the win away in a side-by-side finish at the line. Winger hung on to second and Sean Iftody, who almost was able to take the win from both drivers in a three wide move would end up third.
In Vansickle Pet Valu/PV On the Lane 4 Cylinder action, the field took the green with Jordan Denobriga and Dave Wininger on the front row. On Lap 5, Denobriga fell out of the race with a mechanical failure which brought out a yellow. He was able to continue, but the caution shuffled Clinton Barrick to the front of the pack. Kyle Rothwell made his season debut and worked forward from 16th starting position. Rothwell would make the move on Barrick in the closing laps to get his first win of the season, with Barrick hanging on to second and Cole Hardy following up last week's strong performance by rounding out the podium.
Bobcat of Hamilton Weekly Racing returns for two big shows over the Victoria Day Long Weekend May 20th and May 22nd at Merrittville Speedway. Next Saturday, the Right Choice Auto and Leisure DIRTcar Sportsman will have their first series event on Niagara Employment Help Centre night. The Corr/Pak Merchandising 358 Modifieds, Hoosier Stocks, Rona Doidge Modified Lites and Vansickle Pet Valu/PV on the Lane 4 Cylinders will all be in action on Saturday as well. Pit gates will open at 5:00 pm, grandstands open at 5:30, and racing will begin at 7:00 pm.
Follow Merrittville on social media including Facebook (facebook.com/MerrittvilleSpeedway), Twitter (@Merrittville), and now Instagram and tik Tok (@merrittvillespeedway). For results, point standings, and more, check out the brand new www.merrittvillespeedway.com
RACE RESULTS –- May 13th, 2023
Corr/Pak Merchandising 358 Modifieds – MAT WILLIAMSON (2), Gary Lindberg, Ryan Susice, Pete Bicknell, Fred Carleton, Chad Brachmann, Todd Gordon, Scott Wood, Dalton Slack, Brad Rouse, Boyd MacTavish, Shayne Pierce, Noah Walker, Luke Carleton, Trevor Wright, Dylan Davidson, Derek VanMil, Brandon Gruhl, Darrell, Farraway, Dave Flannigan Jr.
Qualifying Heats – Luke Carleton, Gary Lindberg
Right Choice Auto & Leisure DIRTcar Sportsman – Chad Chevalier (1), Jay Mallory, Rob Knapp, James Friesen, Brent Begolo, Justin Sharp, Noah Mamo, Jordan Cosco, Adam Leslie, Taylor Vanderzanden, Billy Bleich Jr., Curtis Friesen, Mitch Dumont, Paul Gaboury, Matteo Panunte, Jason VanMil, Daniel McKay, Graeme Toth, Bill Gill, Rob Pietz, Cody McPherson, Terry Smith, Nathan Peattie, Jeff Panunte, Ryan Ferri, Nelson Mason
Qualifying Heats – Cody McPherson, Brent Begolo, Adam Leslie
Hoosier Stocks – DAVE BAILEY (2), Rob Murray, Ryan Dinning, Chris Hale, Pete Reid, Kyle Pelrine, Zach Bleich, Kyle Haynes, Gofast Teeple, Donny Lampman, Mark Fawcett, Ron Loggie. Trevor Want, Doris Lajeunesse, Travis Whittal, Jeff Bean, John Overholt, Tyler Lafantaise, Keith Dale, Jim Lampman, Bryce Richardson, Kacey Huffman, Mason Smith, Jason Fontaine, John Couture
Qualifying Heats: Pete Reid, Jason Fontaine, Rob Murray
Rona Doidge Modified Lites – BRENT BEGOLO (1), Tyle Winger, Sean Iftody, R.J. Pietz, Leroy Buscumb, Ryan Anderson, Dan Kviring, Dave Cornish, Anthony Kelly, Chance Kotar, Ryleigh Sliter, Ashton Anderson, Rob Misener, Chris Watson, Josh Sliter
Qualifying Heats – Josh Sliter, Tyler Winger
Vansickle Pet Valu/PV on the Lane 4 Cylinders – KYLE ROTHWELL (1), Clinton Barrick, Cole Hardy, Austyn Werstroh, Alex Riley, Olivier Laroque, John Lubeck, Shawn Keus, Randy Alway, Dylan Bonner, Dave Wininger, Richard Hadler, Douwe Degroot, Rick VanKleef, Blair Rouselle, Alex Tebow, Jordan Denobriga, Mason Anderson, Hana Rothwell, James McDonald, Scott Brown, Ken Hair
Qualifying Heats – Dylan Bonner, Clinton Barrick, John Lubeck
---
Article Credit: Jonathon Howe
Submitted By: Jonathon Howe
Back to News