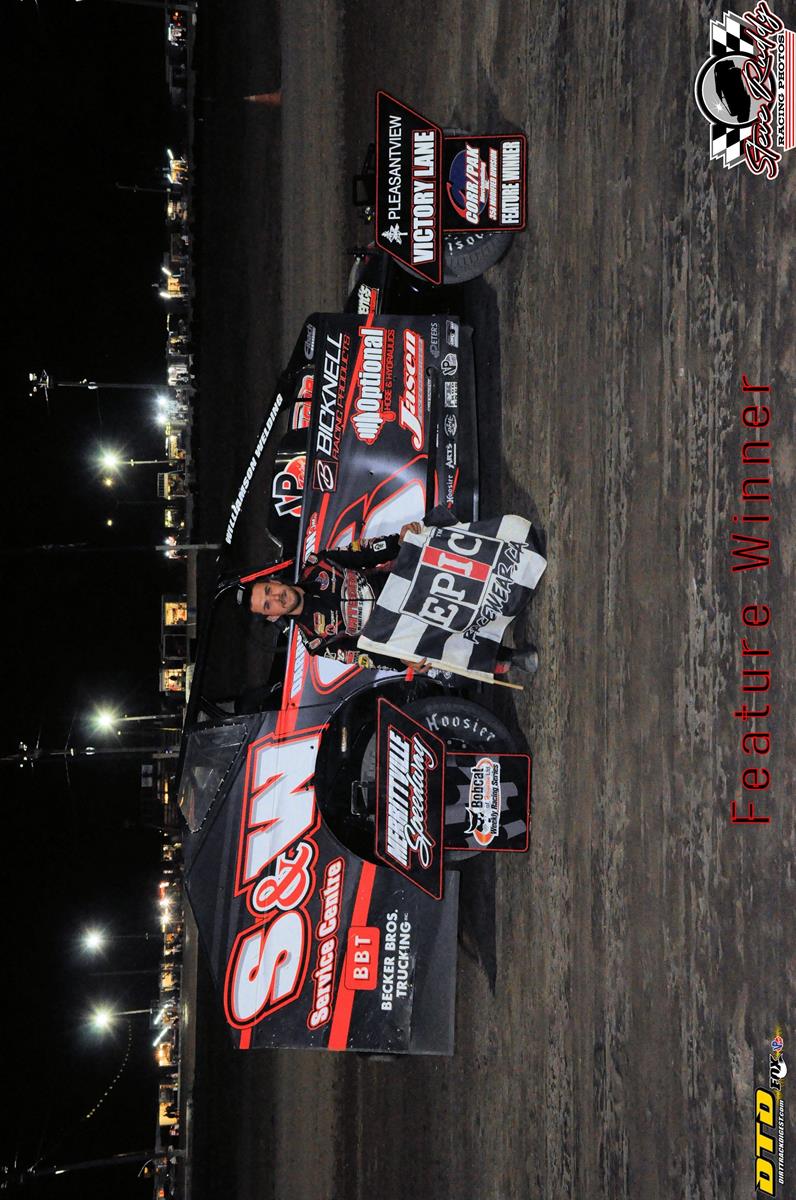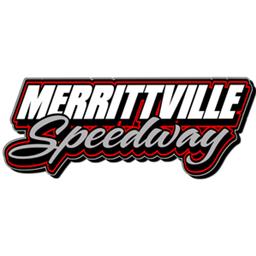 8/21/2022
Merrittville Speedway
---
WILLIAMSON, FRIESEN, BAILEY, BEGOLO AND BARRICK SEE CHECKERS FIRST AT MERRITTVILLE
THOROLD, ONTARIO (August 20th, 2022) … A very fast Merrittville Speedway surface played into the hands of some of the track's strongest drivers on Saturday Night. Mat Williamson of St. Catharines, Ontario won his ninth feature in the Corr/Pak Merchandising 358 Modified's. Niagara On the Lake native James Friesen won the Right Choice Auto & Leisure DIRTcar Sportsman feature. After his debut in the NASCAR Pinty's Series at Ohsweken earlier in the week, Dave Bailey from Hagersville, Ontario won the Hoosier Stock feature. Brent Begolo of Thorold kept his dominant season going in the Rona Doidge Modified Lites, while Port Colborne's Clinton Barrick added another win to the TMR team total in the Vansickle PetValu/PV On the Lane 4 Cylinders. Rick Beales captured the win in the final Enduro Qualifier event of the season.
Tanner Podwinski and Ryan Ferri started on the front row of the Corr/Pak Merchandising 358 Modified feature. A couple early cautions helped to shuffle the field, allowing Pete Bicknell to get to the front of the field and build a sizeable lead. Mat Williamson made his way from 10th to second, and quickly began erasing Bicknell's lead while lap traffic formed in front of the leaders. Williamson used the outside groove to get by Bicknell and drive away from the field to win. Bicknell brought it home second with Gary Lindberg finished third, Dalton Slack fourth, and Ryan Susice fifth.
After multiple incidents to start the feature, race fans were treated to a finish for the ages in the Right Choice Auto & Leisure Sportsman. Greg Panunte built an early advantage over Rob Knapp while James Friesen and Cody McPherson worked their way to front of the field. Friesen would get by Knapp first and would be first to Panunte. While the cars battled for the lead McPherson came back into the picture, even passing Friesen for the lead with just a few laps left. Friesen kept pace with him, and on the final corner, Friesen used the high line to get alongside McPherson, beating him to stripe by just a matter of feet in a side-by-side finish. Panunte ended third, with Rob Knapp fourth and Justin Sharp fifth.
After spending Tuesday running his first NASCAR Pinty's Series race at Ohsweken Speedway, Dave Bailey returned to a place he is quite familiar with: Pleasentview Victory Lane at Merrittville Speedway. Bailey started 7th and worked through the field with ease. The race ran caution free, allowing Bailey to drive off with a comfortable margin to win the race. Mark Fawcett, who won the previous two Hoosier Stock features was second, Jason Fontaine third, Donny Lampman fourth, Jim Lampman fifth.
The Brent Begolo Show rolled on at Merrittville Speedway in the Rona Doidge Modified Lites. Begolo started 8th and quickly moved forward after cautions on laps one and two. Another caution with two laps to go placed Josh Sliter on the tail of Begolo, erasing a 2.9 second advantage. Sliter did all he could, making it a photo finish at the line after getting alongside Begolo out of corner four, but fell short, and Begolo scored win number nine on the year. R.J. Pietz came home third with Rob Misener in fourth and Ryan Anderson rounding out the top five.
It's been a dominant season for Twisted Metal Racing in the Vansickle Pet Valu/PV On the Lane 4 Cylinders. Tyler Lafantaisie has 8 wins this season, Kyle Rothwell has won three times in three different cars and Clinton Barrick has been right there with them competing for wins and top fives. Saturday saw Barrick get back to victory lane for the second time. Barrick survived a green-white-checkered overtime finish to score the win after leading more than half the race. Austyn Werstroh racked up another top five, finishing second, with Lafantaisie third, Ken Hair fourth and Vincent Pagnotta coming home fifth.
Bobcat of Hamilton Weekly Racing returns August 27th at Merrittville Speedway for Country 89.1 night. The Action Sprint Tour return to Merrittville joining the Corr/Pak Merchandising 358 Modified's, Hoosier Stocks, Rona Doidge Modified Lites, and Vansickle Pet Valu/PV on the Lane 4 Cylinders and V6's. The Right Choice Auto & Leisure Sportsman will have the night off. Pit gates will open at 5:00 pm, grandstands open at 5:30, and racing will begin at 7:00 pm.
Follow Merrittville on social media including Facebook (facebook.com/MerrittvilleSpeedway), Twitter (@Merrittville), and now Instagram (@merrittvillespeedway). For results, point standings, and more, check out the brand new www.merrittvillespeedway.com
RACE RESULTS –- August 20th, 2022
Corr/Pak Merchandising 358 Modifieds – MAT WILLIAMSON (9), Pete Bicknell, Gary Lindberg, Dalton Slack, Ryan Susice, Scott Wood, Luke Carleton, Fred Carleton, Brad Rouse, Todd Gordon, Tanner Podwinski, Dave Flannigan Jr., Ryan Ferri, Derek VanMil, Dylan Davidson, Shayne Pierce
Qualifying Heats – Pete Bicknell, Todd Gordon
Right Choice Auto & Leisure Sportsman – JAMES FRIESEN (3), Cody McPherson, Greg Panunte, Rob Knapp, Justin Sharp, Taylor Vanderzanden, Jay Mallory, Terry Smith, Billy Bleich Jr., Darrell Farraway, Adam Leslie, Mitch Dumont, Trevor Wright, Nelson Mason, Jordan Cosco, Curtis Friesen, Ryan Stabler, Jeff Panunte, Noah Mamo, Jason VanMil, Nathan Peattie, Dennis Giancola, Matteo Panunte, Daniel McKay
Qualifying Heats – Rob Knapp, Curtis Friesen, Terry Smith
Hoosier Stocks – DAVE BAILEY (8), Mark Fawcett, Jason Fontaine, Donny Lampman, Jim Lampman, Zach Bleich, Jeff Larmet, Kyle Pelrine, Trevor Want, Kyle Haynes, Gofast Teeple, John Couture, Kacey Huffman, Chris Schneider, Jeff Bean, Kyle Rothwell
Qualifying Heats: Trevor Want, Jason Fontaine
Rona Doidge Modified Lites – BRENT BEGOLO (9), Josh Sliter, R.J. Pietz, Rob Misener, Ryan Anderson, Chris Watson, Tyler Winger, Dillan Sliter, Dave Cornish, Cohen Corbett, Chance Kotar, Ryleigh Sliter, Sean Iftody, Leroy Buscumb, Greg Zack, Tim Anderson, Gavin Hill
Qualifying Heats – R.J. Pietz, Leroy Buscumb
Vansickle Pet Valu/PV on the Lane 4 Cylinders – CLINTON BARRICK (2), Austyn Werstroh, Tyler Lafantaisie, Ken Hair, Vincent Pagnotta, Dustin Duga, Trevor DeBoer, Cierra Keus, Jay Moulton, Aaron Wiley, Randy Always, Richard Hadler, Sam Iftody, Dave Winniger, Mason Anderson, Anthony Kelly, Allan Downey, Jeremy Hughes, Jordan Denobriga, James McDonald, Brian Aube, Hana Rothwell, Mark Deagle, Danny Wurster, Ray Cerenzia
Qualifying Heats – Clinton Barrick, Vincent Pagnotta, Jordan Denobriga
---
Article Credit: Jonathon Howe
Submitted By: Jonathon Howe
Back to News