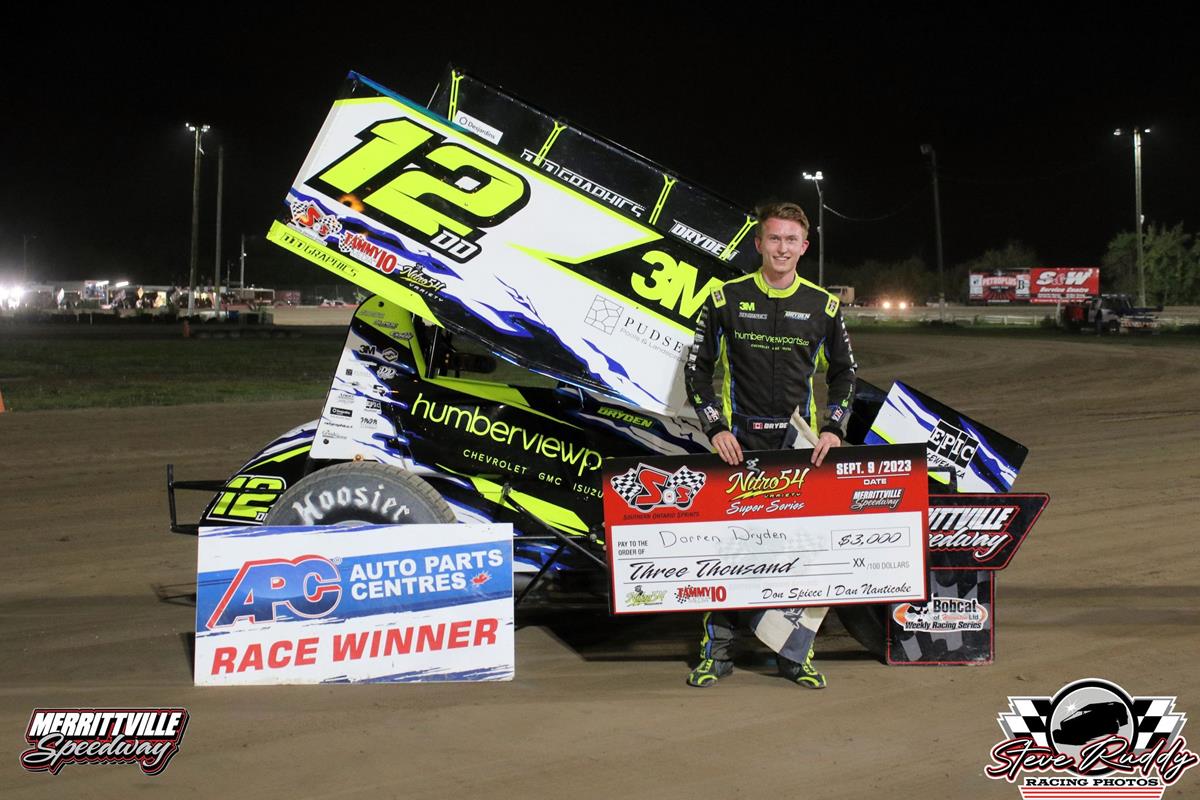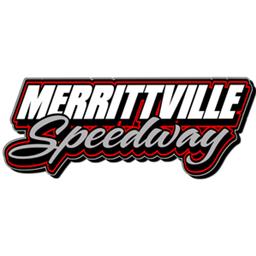 9/10/2023
Merrittville Speedway
---
DRYDEN DOMINANT, MCPHERSON CLOSES OUT STOCK CAR SEASON AT MERRITTVILLE
THOROLD, Ontario (September 9th, 2023) … With the championship hardware settled, Merrittville Speedway fans were treated to one last race night on the season. Cotton Inc presented racing action that saw the return of the Southern Ontario Sprints where Darren Dryden of Freelton, Ontario took home the win. St. Catharines, Ontario native Cody McPherson won the Right Choice Auto & Leisure DIRTcar Sportsman 50 lap feature. Ryan Beagle of Vittoria, Ontario scored the win in the Hoosier Stocks. The Rona Doidge Modified Lites feature was won by Josh Sliter of Port Colborne, Ontario and Cole Hardy of Welland, Ontario won the Vansickle Pet Valu/PV on the Lane 4 Cylinders.
The Right Choice Auto and Leisure DIRTcar Sportsman capped off the final stock car night at Merrittville Speedway with a 50-lap feature that ran green for much of the race. Nelson Mason used his second starting spot to get out to the lead and create a significant advantage on the field. By the time Cody McPherson drove to position two from 12th place on the grid, Mason held a gap of nearly four seconds. However, lap traffic started to allow McPherson to close and with 15 laps to go, he sat just 1.4 seconds back. Just a few laps later, McPherson completed the pass when Mason got stuck behind a lap car and was out in front. On lap 39, Mason tried to dive inside McPherson in turn 3 but the hole closed before Mason could get there, leading to contact and Mason spinning to bring out the first caution of the race with 11 laps to go. From there, several cautions followed including four in the final 6 laps. Even with multiple incidents, McPherson was able to lead each restart comfortably and score the win and close out another championship year in style. Chad Chevalier was second, James Friesen third, Tyler Willard fourth and Noah Mamo closed out the season in fifth.
The Southern Ontario Sprints were in action for a blazing 25 lap feature at Merrittville Speedway. Darren Dryden started from pole with Tyeller Powless alongside. Paul Ballantyne brought out the caution when his car lost power on lap four. Dryden continued his pace at the front of the field on the restart, this time driving off from Dylan Westbrook who set a new track record for 360 Sprint Car racing in qualifying earlier in the night. With 10 to go, another caution was brought out when Tyeller Powless spun. Dryden once again drove off unchallenged with Westbrook having defend second from a hard charging D.J. Christie. Even with the unmatched speed out front, Dryden would once again have to nail a restart, when Josh Hansen brought a caution with three laps left in the race. While Westbrook and Christie exchanged slide jobs, Dryden drove off and $3000 for his efforts. Ryan Turner and Mitch Brown completed the top five.
Ron Loggie and Kyle Pelrine led the field of 22 Hoosier Stock race cars to green for their 40 lap Duel on the Dirt Combined Feature event. Pelrine showed great pace early in the race, leading the field and holding off a hefty challenge from Dave Bailey in the middle section of the race. While those two raced for the lead, Justin Ramsay and Ryan Beagle worked their way forward to third and fourth. Suddenly five cars were battling for the top spot as Tyler French who started inside the top, made his presence felt. Pelrine eventually slipped up and Bailey cleared to the lead before Beagle got by him. A caution on lap 27 set up a 13-lap shootout, where Beagle and Bailey battled again with Beagle eventually coming on top. Ramsay came home in second, Mark Fawcett gained 18 spots to finish in third, while Bailey faded late to fourth and Tyler French finished fifth.
Josh Sliter brought the Rona Doidge Building Centres Modified Lites to the green flag, however the field didn't complete a lap before Brent Begolo, Tyler Winger and Anthony Kelly tangled in turn 1. The track champ for 2023 Begolo would be able to continue but had to go to the back of the field, however he showed his calibre coming back through the field. While Sliter paced the field out front, Begolo continued to drive from 18th up to second on the track. He ran out of time to challenge his teammate for the win, and Sliter took win number 4 on the season at Merrittville. R.J. Pietz finished in third, with Rob Misener and Sean Iftody completed the top five finishers.
Shawn Keus and Cole Hardy began the Vansickle Pet Value/PV on the Lane 4 Cylinder feature out front and both drivers stayed up front. Rob Goulding and John Lubeck joined in on the multicar battle, as no one driver was able to drive away with the top spot. After a caution on lap 15, Hardy lined up with Lubeck and Keus on his tail and did a masterful job holding them off. Hardy claimed the win to close out a fantastic return to full time competition in 2023, with Lubeck second, Keus third, Ken Hair finishing fourth and Olivier Larocque coming home in fifth.
As stock car racing ends at Merrittville Speedway, next week Tim Horton's Presents Wreckfest. The 2023 edition of Wreckfest will be held under the lights on a Saturday night. The event will feature an Enduro Race and multiple demo derby's including a School Bus Demolition Derby. Tickets are available online or at Merrittville Big Scoop throughout the week. Pit gates will open at 4:30 pm, and racing will begin at 6:00 pm.
Follow Merrittville on social media including Facebook (facebook.com/MerrittvilleSpeedway), Twitter (@Merrittville), and now Instagram and Tik Tok (@merrittvillespeedway). For results, point standings, and more, check out the brand new www.merrittvillespeedway.com
RACE RESULTS –- September 9th, 2023
Southern Ontario Sprints – DARREN DRYDEN, Dylan Westbrook, D.J. Christie, Ryan Turner, Mitch Brown, Matt Farnham, Mike Bowman, Nick Sheridan, Liam Martin, Scott Kreutter, Cory Turner, Kyle Phillips, Aaron Turkey, Travis Cunningham, Allan Downey, Baily Heard, Todd Hoddick, Shone Evans, Glenn Styres, Tyeller Powless, Kevin Pauls, Jamie Turner, Josh Hansen, Paul Ballantyne
Qualifying Heats – Nick Sheridan, Mitch Brown, D.J. Christie
Right Choice Auto & Leisure DIRTcar Sportsman – CODY MCPHERSON (6), Chad Chevalier, James Friesen, Tyler Willard, Noah Mamo, Billy Bleich Jr., Nelson Mason, Mitch Dumont, Curtis Friesen, Matt Sharpe, Daniel McKay, Chris Hawkins, Nathan Peattie, Wayne Swinson, Jordan Denobriga, Geneva Sheffield, Graeme Toth, Matteo Panunte, Terry Smith, Rob Knapp, Taylor Vanderzanden, Brent Begolo, Jay Mallory
Qualifying Heats – Chad Chevalier, Cody McPherson, Tyler Willard
Hoosier Stocks – RYAN BEAGLE (2), Justin Ramsay, Mark Fawcett, Dave Bailey, Tyler French, Kyle Pelrine, Jason Fontaine, Ryan Dinning, Zach Bleich, Pete Reid, Chris Hale, Ken Sargent, Rob Murray, Donny Lampman, John Overholt, Gofast Teeple, Jeff Bean, Adam Plazek, Dave Small, Ron Loggie, Ross Crowe
Qualifying Heats: Kyle Pelrine, Chris Hale, Justin Ramsay
Rona Doidge Modified Lites – JOSH SLITER (4), Brent Begolo, R.J. Pietz, Rob Misener, Sean Iftody, Ryan Anderson, Leroy Buscumb, Tyler Winger, Dave Cornish, Cohen Corbett, Anthony Kelly, Roger Pardis, Ashton Anderson, Chance Kotar, Ryleigh Sliter, Chris Watson, Dan Kviring, Ray Sliter
Qualifying Heats – Ryan Anderson. Tyler Winger
Vansickle Pet Valu/PV on the Lane 4 Cylinders – COLE HARDY (2), John Lubeck, Shawn Keus, Ken Hair, Olivier Larocque, Nick Erskine, Rob Goulding, Austyn Werstroh, Sam Iftody, Dave Wininger, Blair Rousselle, Vincent Pagnotta, Niko Hansen, Joshua Dmytrow, Nick Bowman, Randy Always, Richard Hadler, Douwe Degroot, James Marshall, Roger Winfield, Mason Anderson, Tina Ronning, Rob Sauder, Jocelyn Wiley, (DNS) Tyler Lafantaise
Qualifying Heats – Mason Anderson, Vincent Pagnotta, John Lubeck
---
Article Credit: Jonathon Howe
Submitted By: Jonathon Howe
Back to News