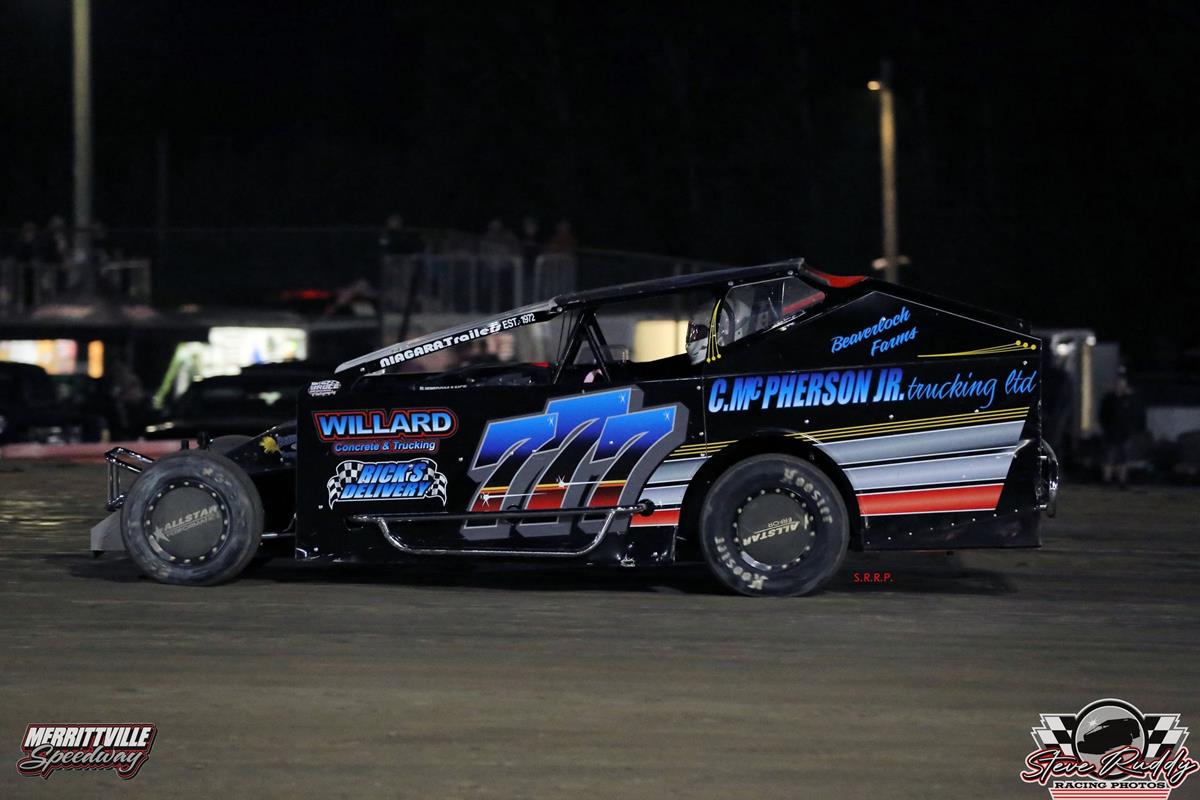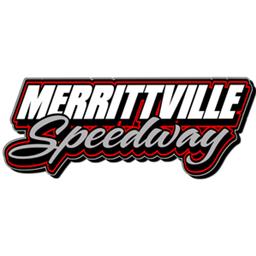 6/18/2023
Merrittville Speedway
---
MCPHERSON WIN A SPECIAL ONE ON CAA NIAGARA WALL OF FAME NIGHT AT MERRITTVILLE
THOROLD, ONTARIO (June 17th, 2023) … Saturday night saw Merrittville Speedway host its annual Nostalgia Night which began with a pre race ceremony during which Guy McPherson and Larry Lampman Jr. were inducted into the track's CAA Niagara Wall of Fame. Loyal track crew members Bob Duyn and Bill Tripp were honoured with the CAA Niagara Dedication to Racing Award. The Corr/Pak Merchandising 358 Modiified's contested the 50 lap Jerry Winger Memorial where St. Catharines, Ontario driver Matt Williamson took home the win. The Right Choice Auto & Leisure DIRTcar Sportsman event went to Cody McPherson of St. Catharines. Rob Murray also racing out of St. Catharines took home the Hoosier Stock victory. Thorold, Ontario's Brent Begolo grabbed the checker's in the Rona Doidge Modified Lites and Tim Natalino of Wheatfield, New York was the winner of the Vintage Class event.
Saturday was a night to honour history while one Corr/Pak Merchandising 358 driver is continuing to rewrite it. Mat Williamson seeking his seventh consecutive win to start 2023 at Merrittville, started the 50 lap Jerry Winger Memorial from 10th. Outside polesitter Brad Rouse spent most of the first half of the event pacing the field and driving away. Chad Brachmann was the first to start to close the gap on Rouse, but was unsuccessful in his attempts to make a pass. Gary Lindberg was next in line to challenge but had hard time moving around Brachmann to get to second. Meanwhile Williamson patiently moved his way the field, almost appearing as if the car did not have winning pace in the early portion of the event. However, in one move, he was able to shoot the gap and get passed Brachmann and clear Lindberg in the next corner. From there, Williamson tracked down Rouse and made the pass for the lead around the half way point of the event and never looked back. Williamson scored the win and made it a perfect seven for seven on the season in a caution free event. Lindberg finished second, Brachmann third, with Brad Rouse falling to fourth and Darrell Farraway coming home in fifth.
The night was already incredibly special for Cody McPherson before the green flag was even out on the Right Choice Auto & Leisure DIRTcar Sportsman field. His father Guy, who was instrumental in getting Cody to where he is today, was honoured pre-race and inducted to Merrittville Speedway's Wall of Fame. Cody, running a throwback scheme to his father's #777 started the race from 12th. The 25 car field lead to green by Noah Mamo and Billy Bleich Jr. saw it's first caution when Brent Begolo slowed on the backstretch on lap three. Just five laps later, Bleich Jr. had a mechanical problem which ended his night early as he slowed and the yellow was out again. With each restart McPherson, would grab a few spots and move closer to the front. A stretch of green flag action saw McPherson get to the front and take the lead before James Friesen Spun in turns 1 and 2, backing into the outside barriers for yet another caution. As the leader, McPherson would have to hold off the field for two more restarts, including a green-white-checkered finish when Curtis Friesen crashed before the field took the white flag. In the end, McPherson got the fairy tale ending to Nostalgia that the some 40 plus family and friends in the stands came to see and they all joined Cody on the front stretch in APC Victory Lane. Justin Sharp continued his solid season finishing second, with Mitch Dumont, Chad Chevalier, and Taylor Vanderzanden completing the top five.
The Hoosier Stocks returned to action Saturday after a weekend off and a past champion returned to his winning form. Zach Bleich and Jason Fontaine started the event as the front row with both drivers being competitive for much of the race. Two cautions occurred within the races first five laps, and Ryan Dinning was able to take the lead from Bleich on the restart 6 laps into the event. Rob Murray who started fifth, made his way to the front of the field and ultimately took the lead with 8 laps to go. However, the final few laps saw a rash of cautions when George Grosul spun with 3 to go, Kyle Haynes and Jim Lampman tangling on the restart and then Zach Bleich turning Dave Bailey for which Bleich was ultimately sent to the back for. Despite all the chaos, Rob Murray held on to grab his first win of the year over Dinning, Fontaine, Mark Fawcett and Donny Lampman.
Anthony Kelly and Chris Watson brought the field of 16 Rona Doidge Modified Lites to green Saturday night. Brent Begolo seeking his third win in as many races, took the lead on lap 5 after starting eighth. On lap 6, third place starter Ryan Anderson went for a spin in turns one and two for the race's first caution. There would be no redemption for Chris Watson after he spun in turn four and would have to wait another week to get back to victory lane. Meanwhile Tyler Winger moved up to second and seemed like he may be the driver up to the task of stopping Begolo's streak. The red flag came out with five laps to go for Ashton Anderson who flipped over on the exit of turn four, however the car had minimal damage and he was able to continue on, only bring out another caution with four laps to go. Begolo held off Winger on both restarts to win his third feature in a row, and fifth on the season. Winger was second with R.J. Pietz third, Shawn Sliter fourth, and Sean Iftody coming home fifth.
The NRVRS Vintage Cars opened the Nostalgia Night action with a feature event. Bill Montreuil and Tim Natalino started on the front row. Montreuil lead early before Natalino tracked him down to take the lead. Dave Small drove up from ninth position to second and pressured Natalino but wasn't able to make the pass. Natalino won with Small second, Mark Shadwell third, Evan Curtis fourth and Andy Imbeault fifth.
Next Weekend, Merrittville honours another local icon in speed with the Gary Cunningham Memorial for the Southern Ontario Sprints. Joining in the action will be our Bobcat of Hamilton weekly racing series the Corr/Pak Merchandising 358 Modified's, Hoosier Stocks, Rona Doidge Building Centres Mod Lites and the Vansickle Pet Valu/PV on the Lane 4 Cylinders. It is also Toonie Hot Dog night at the races! Pit gates will open at 5:00 pm, grandstands open at 5:30, and racing will begin at 7:00 pm.
Follow Merrittville on social media including Facebook (facebook.com/MerrittvilleSpeedway), Twitter (@Merrittville), and now Instagram and Tik Tok (@merrittvillespeedway). For results, point standings, and more, check out the brand new www.merrittvillespeedway.com
RACE RESULTS –- June 18th, 2023
Corr/Pak Merchandising 358 Modifieds – MAT WILLIAMSON (7), Gary Lindberg, Chad Brachmann, Brad Rouse, Darrell Farraway, Pete Bicknell, Fred Carleton, Luke Carleton, Mike Bowman, Dalton Slack, Scott Wood, Noah Walker, Tom Neale, Trevor Wright, Ken Winfield, Dylan Davidson, Derek VanMil, Shayne Pierce, Brandon Gruhl, Todd Gordon
Qualifying Heats – Chad Brachmann, Darrell Farraway, Mat Williamson
Right Choice Auto & Leisure DIRTcar Sportsman – CODY MCPHERSON (3), Justin Sharp, Mitch Dumont, Chad Chevalier, Taylor Vanderzanden, Paul Gaboury, Rob Knapp, James Friesen, Jordan Cosco, Nelson Mason, Jay Mallory, Rob Pietz, Jason VanMil, Matteo Panunte, Terry Smith, Nathan Peattie, Daniel McKay, Doug Walsh, Graeme Toth, Curtis Friesen, Noah Mamo, Jordan Denobriga, Billy Bleich Jr., Brent Begolo, Ryan Ferri
Qualifying Heats – Noah Mamo, Curtis Friesen, Billy Bleich Jr.
Hoosier Stocks – ROB MURRAY, Ryan Dinning, Jason Fontaine, Mark Fawcett, Donny Lampman, Kyle Pelrine, Ron Loggie, Bryce Richardson, John Couture, Ken Sargent, Kyle Haynes, Jim Lampman, Tyler Lafantaise, Zach Bleich, Dave Bailey, George Grosul, Rob Disher, Mitch Petta, Pete Reid, Gofast Teeple, John Overholt, Murray Nicholls, Terry Larmet
Qualifying Heats: Jason Fontaine, Ryan Dinning, Kyle Pelrine
Rona Doidge Modified Lites – BRENT BEGOLO (5), Tyler Winger, R.J. Pietz, Shawn Sliter, Sean Iftody, Rob Misener, Greg Zack, Dan Kviring, Ryan Anderson, Cohen Corbett, Chris Watson, Anthony Kelly, Dave Cornish, Ryleigh Sliter, Leroy Buscumb, Ashton Anderson
Qualifying Heats – Chris Watson, Leroy Buscumb
NRVRS Vintage Cars – TIM NATALINO, Dave Small, Mark Shadwell, Evan Curtis, Andy Imbeault, Bill Montreuil, Steve Longo, Tim Harris, Bill Profota, Conrad Baker, Jens Mortensen, Jeff Larmet
Qualifying Heats – Bill Montreuil, Evan Curtis
---
Article Credit: Jonathon Howe
Submitted By: Jonathon Howe
Back to News