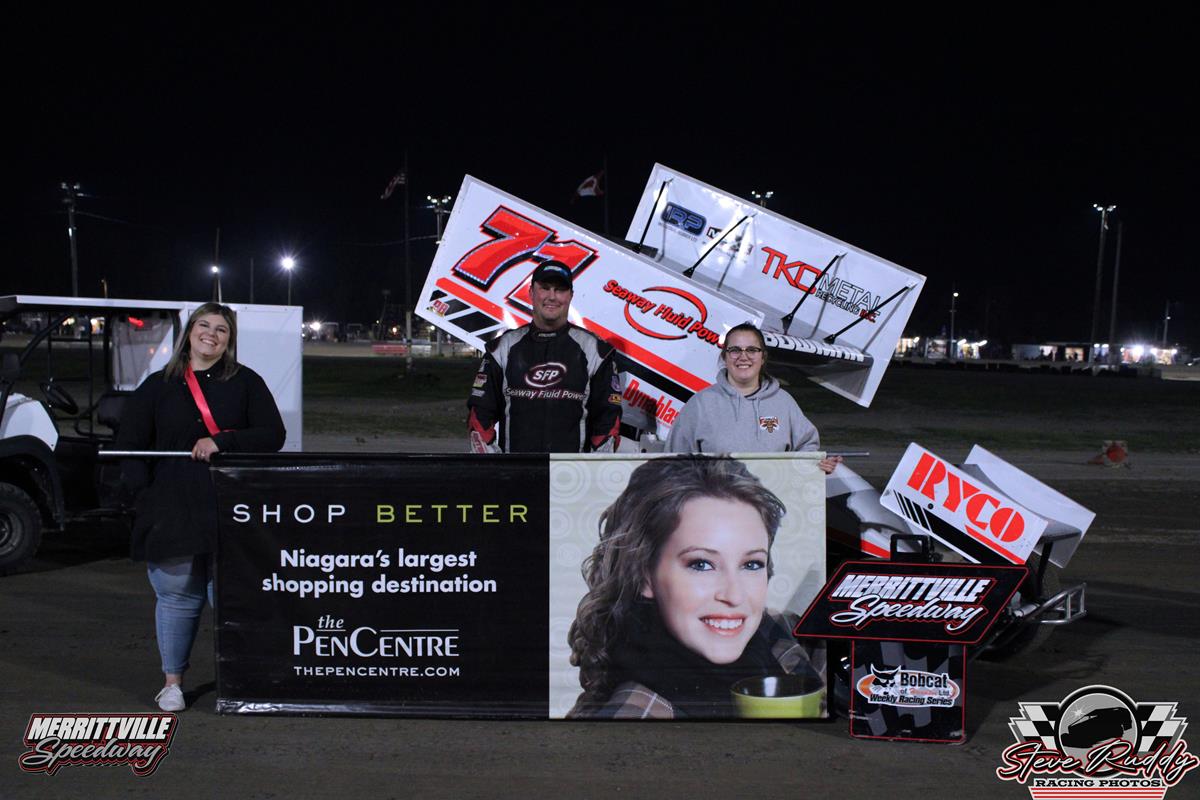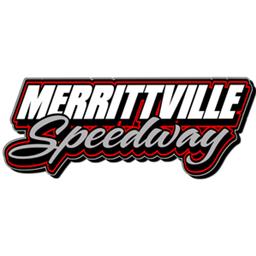 6/11/2023
Merrittville Speedway
---
MIKE BOWMAN TOP DOG IN THE ACTION SPRINT TOURS FIRST STOP AT MERRITTVILLE SPEEDWAY
MIKE BOWMAN TOP DOG IN THE ACTION SPRINT TOURS FIRST STOP AT MERRITTVILLE SPEEDWAY
THOROLD, ONTARIO (June 10th, 2023) … Canada's Oldest Dirt Track played host to their first Sprint Car event of the season Saturday as the Oakwood Transport Action Sprint Tour West hit the Merrittville Speedway clay. It was past Modified champion Mike Bowman of St. Catharines winning on Pen Centre night at the races. Mat Williamson of St. Catharines made it six straight feature wins in the Corr/Pak Merchandising 358 Modifieds. Fellow St. Catharines native Cody McPherson went to victory lane in the Right Choice Auto & Leisure DIRTcar Sportsman. The Rona Doidge Modified Lites feature belonged to Brent Begolo of Thorold, Ontario and Austyn Werstroh of Niagara on the Lake, Ontario scored the win in the Vansickle Pet Valu/PV On the Lane 4 Cylinders.
Darrell Farraway and Trevor Wright made up the front row for the Corr/Pak Merchandising 358 Modified feature event, with Farraway jumping out to an early lead. Mat Williamson riding a five-race win streak started 12th, his deepest starting spot of the year, spent the first third of the race running the high side trying to get to the front. Gary Lindberg was on a march of his own from ninth, while third place starter Scott Wood wrestled the lead away from Farraway. Soon both Lindberg and Williamson were battling for the top spot with Wood, and Williamson came out on top. Two quick cautions came out on lap 17 for a spin by Dalton Slack and lap 20 went Dylan Davidson had a flat tire. Williamson controlled both with ease and drove to another large. With 7 laps to go, Todd Gordon had a mechanical issue which led to a caution. Once again Williamson would drive off leaving Lindberg and Wood in his wake, ultimately taking his sixth feature win on the season. Brad Rouse and Fred Carelton rounding out the top five.
The Right Choice Auto & Leisure DIRTcar Sportsman began with Rob Pietz on pole and Mitch Dumont to his outside. Curtis Friesen went for a spin on the backstretch on lap 3, giving the Sportsman their first caution of the race. On the restart, the cream began to rise to the top as some of the division's top talents began to take over including Cody McPherson. McPherson spent several laps running down early leader Adam Leslie. Leslie paced the field early after the restart but was caught by McPherson who used some lap traffic to his advantage to complete the pass. With 3 Laps to go, Curtis Friesen stalled with a mechanical issue again bringing out a yellow. McPherson held off the late charge of James Friesen and took home his second feature win of the year. Friesen was second, Leslie third, Jordan Cosco fourth and Chad Chevalier came home fifth.
The Oakwood Transport Action Sprint Tour West made their first stop of three stops at Merrittville Speedway with a familiar name starting on pole. Mike Bowman led the field to green alongside Lance Erskine and was dominant from the get-go. A caution of lap 5 halted his progress of building a large lead but it was a temporary setback. Meanwhile, Brett Stratford who had to work his way forward from 7th, inched closer lap after lap, picking up positions when he could. He got a shot at Bowman with 10 to go when John Cadman spun in turn four leading to another restart. However, Stratford still had to pass Erskine on the restart and ran out of time to make a challenge on Bowman for the win. Bowman saw the checkers first with Stratford, Erskine, Matt Billings and Al Sleight completing the front five behind him.
In Rona Doidge Modified Lites action, outside pole sitter Chris Watson appeared through the first half of the feature as the driver who break up the Josh Sliter/Brent Begolo stranglehold on the division. However, after the halfway point. Watson began to see his over two second lead dwindle as Begolo made his charge to the front. Begolo used the low lane to make a pass for the lead with three laps to go. Watson went for the crossover, going to the low side and pulling a wheel alongside Begolo coming to two laps to go. Into corner one, Begolo attempted to cover off the bottom lane, contacting Watson's right front wheel, causing Watson to spin and bring out the races first yellow. The race was decided in a two-lap shootout that saw Begolo hold off R.J. Pietz, who got Begolo's outside on the final lap, but couldn't keep up around the last set of corners and Begolo scored his fourth feature win of the season. Pietz, Josh Sliter, Sean Iftody and Leroy Buscumb all ended up with top five finishes.
Blair Rousselle and Richard Hadler took the green as the front row of the Vansickle Pet Valu/PV On the Lane 4 Cylinder feature race. One name that has been a constant contender at Merrittville in the Mini Stocks is Austyn Werstroh. While the 71 has always had speed, for one reason or another, victory lane has eluded Werstroh for the last year or so. Tonight, the driver from Niagara on the Lake would not be denied. On a restart with four laps to go, Werstroh was tasked with holding off two drivers who already ended long winless droughts this season in Alex Riley and Cole Hardy, and he was able to do just that. Werstroh secured the win over Hardy, Riley, Rick Beales and Blair Rousselle.
Tomorrow, Rona Doidge Building Centres presents Wreckfest Jr. featuring the 72 lap enduro powered by 97.7 HTZ FM. The event will also feature a Pro Rider Freestyle MX performance and a gut and go demo derby. Pit Gates open at 9:00am, grandstands at 11:30 and the event will get underway at 1:00pm. Bobcat of Hamilton weekly racing returns next Saturday when Merrittville Speedway celebrates its 72nd Anniversary season with Nostalgia Night. Guy McPherson and Larry Lampman will be inducted to the CAA Niagara Wall of Fame pre-race while the Corr/Pak Merchandising 358 Modifieds contest the 50 lap Jerry Winger Memorial. The Right Choice Auto & Leisure DIRTcar Sportsman, Rona Doidge Modified Lites and NRVRS Vintage Cars will all join in the celebratory nights action. Pit gates will open at 5:00 pm, grandstands open at 5:30, and racing will begin at 7:00 pm.
Follow Merrittville on social media including Facebook (facebook.com/MerrittvilleSpeedway), Twitter (@Merrittville), and now Instagram and Tik Tok (@merrittvillespeedway). For results, point standings, and more, check out the brand new www.merrittvillespeedway.com
RACE RESULTS –- June 10th, 2023
Corr/Pak Merchandising 358 Modifieds – MAT WILLIAMSON (6), Gary Lindberg, Scott Wood, Brad Rouse, Fred Carleton, Shayne Pierce, Dalton Slack, Pete Bicknell, Darrell Farraway, Luke Carleton, Trevor Wright, Derek VanMil, Todd Gordon, Ken Winfield, Dylan Davidson, Boyd MacTavish
Qualifying Heats – Brad Rouse, Farrell Farraway,
Right Choice Auto & Leisure DIRTcar Sportsman – CODY MCPHERSON (2), James Friesen, Adam Leslie, Jordan Cosco, Chad Chevalier, Rob Pietz, Justin Sharp, Jason VanMil, Brent Begolo, Nelson Mason, Mitch Dumont, Matteo Panunte, Noah Mamo, Billy Bleich Jr., Paul Gaboury, Jay Mallory, Taylor Vanderzanden, Austin Wood, Daniel McKay, Bill Gill, Ryan Ferri, Graeme Toth, Jordan Denobriga, Curtis Friesen, Rob Knapp,
Qualifying Heats – Adam Leslie, Cody McPherson, Mitch Dumont
Action Sprint Tour – MIKE BOWMAN, Brett Stratford, Lance Erskine, Matt Billings, Al Sleight, Tanner Podwinski, Ashton VanEvery, Johnny Miller, Brian Nanticoke, Sheldon Bender, Keegan Baker, Cam MacKinnon, Tyler Ward, John Cadman, Will Marche, Cameron Thomson
Qualifying Heats: Brett Stratford, Mike Bowman, Matt Billings
Rona Doidge Modified Lites – BRENT BEGOLO (4), R.J. Pietz, Josh Sliter, Sean Iftody, Leroy Buscumb, Ryan Anderson, Rob Misener, Dan Kviring, Cohen Corbett, Anthony Kelly, Dave Cornish, Ryleigh Sliter, Chris Watson, Tyler Winger, Ashton Anderson, Chance Kotar
Qualifying Heats – Ryan Anderson, Chris Watson
Vansickle Pet Valu/PV on the Lane 4 Cylinders – AUSTYN WERSTROH, Cole Hardy, Alex Riley, Rick Beales, Blair Rousselle, Randy Always, Fabio Olivieri, Brian Aube, John Lubeck, Douwe Degroot, Sam Iftody, Olivier Larocque, Mark Deagle, Richard Hadler, Dave Winniger, Ken Hair Cierra Keus, Alex Tebow, Rob Goulding, Jay Moulton, Steve Conway, Mason Anderson, Tyler Lafantaise, Kyle Rothwell
Qualifying Heats – Ken Hair, Alex Riley, Kyle Rothwell
---
Article Credit: Jonathon Howe
Submitted By: Jonathon Howe
Article Media
Back to News