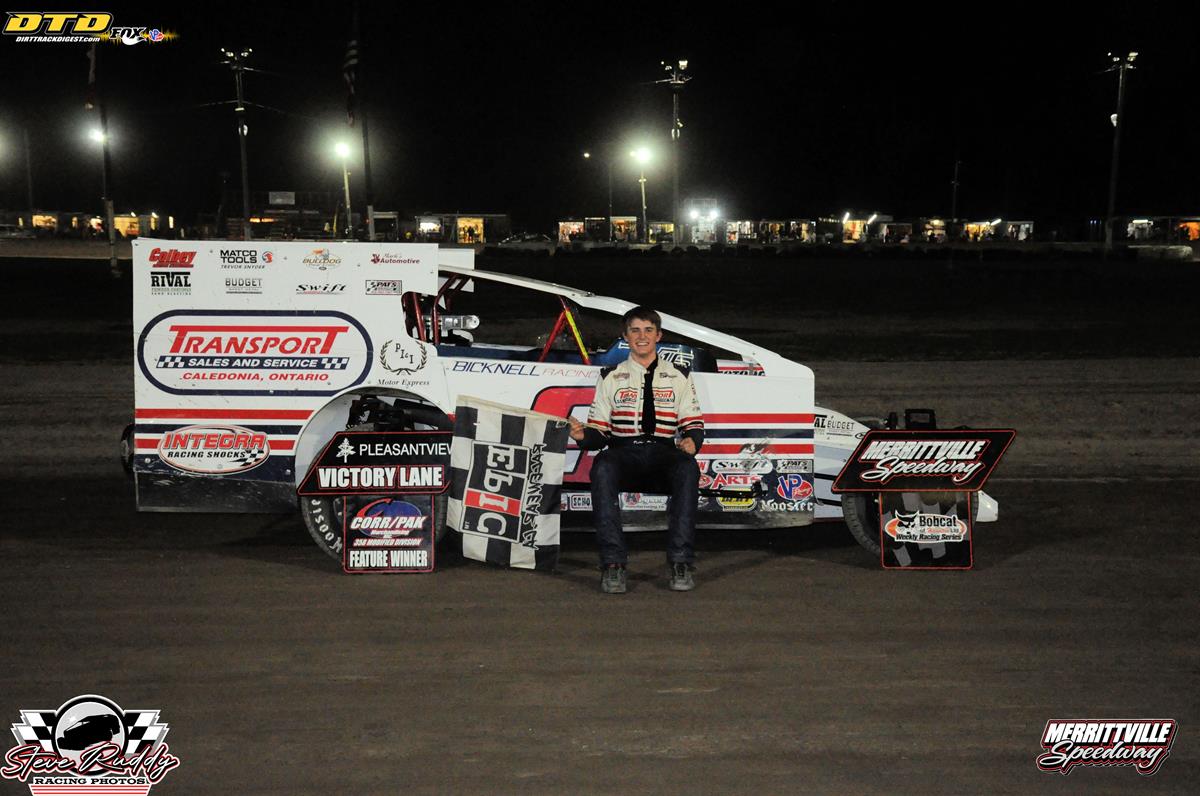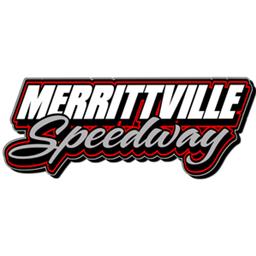 8/14/2022
Merrittville Speedway
---
SLACK BREAKS THROUGH FOR FIRST CAREER WIN ON FAN FAVOURITE AUTOGRAPH NIGHT
THOROLD, ONTARIO (August 13th, 2022) … As fans collected autographs at intermission, a star with a famous last name was on the verge of a break through. On Niagara Trailers night, Dalton Slack of Welland, Ontario would finally break through for his first career Corr/Pak Merchandising 358 Modified feature win. Billy Bleich Jr. from Port Robinson, On scored the win in the Right Choice Auto and Leisure Sportsman. It was back to back feature wins for Canfield native Mark Fawcett in the Hoosier Stocks, as well as Brent Begolo of Thorold in the Rona Doidge Modlites. Kyle Rothwell of Welland opened the night's feature racing with a win in the Vansickle Pet Valu/PV on the Lane 4 Cylinders.
It was a perfect night for Dalton Slack Saturday at Merrittville. After winning his heat earlier in the night, Slack started on the outside of the front row, quickly taking the lead from pole sitter Dylan Davidson. Slack would build a sizeable lead, while Gary Lindberg worked toward the front of the field, passing five cars in the opening seven laps to get to second. Slack struggled with lap traffic, as two cars raced for postion in front of the leader while trying to stay on the lead lap. This erased a nearly 2 second advantage for Slack, who would successfully get around the lap cars and hold off Lindberg. However, a caution fell with 5 laps to go, setting up a single car restart. Lindberg tried high and low to find a way around Slack, but couldn't. Slack would lead nearly every lap and score his first career win the Corr/Pak Merchandising 358 Modified's. Lindberg was second, Mat Williamson made a late charge to claim third, with Scott Wood fourth and Ryan Susice fifth.
Nathan Peattie and Taylor Vanderzanden led the field to green in the Right Choice Auto & Leisure Sportsman feature. Vanderzanden looked strong for much of the first part of the race,while Billy Bleich Jr. emerged as the main competition for the win. The races only caution came when Jason VanMil spun and stalled with 10 laps to go. On the restart Bleich would be able to work around the outside of Vanderzanden to take the lead, only to run the bottom a few laps later to protect the win and cross the finish line first. Vanderzanden would settle for second, with Adam Leslie third, Justin Sharp fourth and Cody McPherson fifth.
After a caution free feature the previous week, the Hoosier Stock feature was a war of attrition. A crash with 7 laps to go involving more than five cars brought out the red flag when Rob Murray made contact with another driver and spun in front of the field while racing in the top three. On the restart, Mark Fawcett would continue his winning ways holding off charges from Dave Bailey and Donny Lampman, who battled for much of the race while chasing the leader. Gofast Teeple and Kyle Pelrine also finished in the top five, as Fawcett scored his second feature win in a row at Merrittville Speedway.
It was another dominant drive from Brent Begolo in the Rona Doidge Building Centres Mod Lites. Begolo started seventh, and was battling for the lead immediately. The car seemed to have an after burner on it, passing cars with ease before getting out in front of the field. Several cautions and restarts were no problem for Begolo, who controlled them all no matter who was lined up around him. Begolo took his 8th win of the season at Merrittville, with Sean Iftody finishing second, Ryan Anderson third, Rob Misener fourth and Josh Sliter rallying back from a mid race pit stop to finish fifth.
If Tyler Lafantaisie was hare, Kyle Rothwell was the tortoise. The drivers started 14th and 13th respectively, and while Lafantaisie quickly moved through the field with speed, Rothwell was never far behind taking a more methodical approach. Once Lafantaisie took the lead from Vincent Pagnotta, it seemed to be all his to win. However, his teammate Rothwell would creep up on him late, eventually making the winning move on the final lap. Rothwell secured the win with patience, while Lafantaisie had a nother great run in second. Pagnotta was third, with Austyn Werstroh fourth and Anthony Kelly fifith.
Bobcat of Hamilton Weekly Racing returns August 20th at Merrittville Speedway for Hot Tub Giveaway Night. Hottub Heaven will be presenting the action in the Corr/Pak Merchandising 358 Modified's, Right Choice Auto and Leisure Sportsman, Hoosier Stocks, Rona Doidge Modified Lites, and Vansickle Pet Valu/PV on the Lane 4 Cylinders will all be in action. Pit gates will open at 5:00 pm, grandstands open at 5:30, and racing will begin at 7:00 pm.
Follow Merrittville on social media including Facebook (facebook.com/MerrittvilleSpeedway), Twitter (@Merrittville), and now Instagram (@merrittvillespeedway). For results, point standings, and more, check out the brand new www.merrittvillespeedway.com
RACE RESULTS –- August 13th, 2022
Corr/Pak Merchandising 358 Modifieds – DALTON SLACK, Gary Lindberg, Mat Williamson, Scott Wood, Ryan Susice, Pete Bicknell, Shayne Pierce, Brad Rouse, Fred Carleton, Dylan Davidson, Todd Gordon, Chad Chevalier, Mike Bowman, Ryan Ferri, Dave Flanningan Jr., Tanner Podwinski, Derek VanMil, Luke Carleton, Boyd MacTavish, Brandon Gruhl
Qualifying Heats – Todd Gordon, Dylan Davidson, Dalton Slack
Right Choice Auto & Leisure Sportsman – BILLY BLEICH JR., Taylor Vanderzanden, Adam Leslie, Justin Sharp, Cody Mcpherson, James Friesen, Jay Mallory, Rob Knapp, Noah Mamo, Nelson Mason, Jeff Panunte, Greg Panunte, Jordan Cosco, Trevor Wright, Mitch Dumont, Terry Smith, Nathan Peattie, Jason VanMil, Spencer Smolders, Curtis Friesen, Daniel McKay, Matteo Panunte, Brent Begolo, Chris Hawkins
Last Chance Qualifyer – SPENCER SMOLDERS, Mitch Dumont, Terry Smith, Daniel McKay, Curtis Friesen, Chris Hawkins, Cameron Lane, Jason Farraway, Doug Walsh
Qualifying Heats – Jay Mallory, Taylor Vanderzanden, Greg Panunte
Hoosier Stocks – MARK FAWCETT (3), Dave Bailey, Donny Lampman, Gofast Teeple, Kyle Pelrine, Jeff Larmet, John Couture, Zach Bleich, Rob Murray, Jason Fontaine, Trevor Want, Jim Lampman, Barry Watson, Rob Disher, Jeff Bean, Chris Schneider
Qualifying Heats: Jason Fontaine, Donny Lampman
Rona Doidge Modified Lites – BRENT BEGOLO (8), Sean Iftody, Ryan Anderson, Rob Misener, Josh Sliter, Tyler Winger, R.J. Pietz, Leroy Buscumb, Dillan Sliter, Cohen Corbett, Dave Cornish, Greg Zack, Gavin Hill, Craig Martin, Ryleigh Sliter, Chris Watson
Qualifying Heats – Josh Sliter, Brent Begolo
Vansickle Pet Valu/PV on the Lane 4 Cylinders – KYLE ROTHWELL (3), Tyler Lafantaisie, Vincent Pagnotta, Austyn Werstroh, Anthony Kelly, Hana Rothwell, Cole Hardy, Trevor DeBoer, Sam Iftody, Jay Moulton, John Luebeck, Jordan Denobriga, Dustin Duga, Randy Alway, Cierra Keus, Richard Hadler, Danny Wurster, Dave Winniger, James McDonald, Jacob Mcintyre, Clinton Barrick, Ken Hair, Mason Anderson
Qualifying Heats – Clinton Barrick Sam Iftody, Ken Hair
---
Article Credit: Jonathon Howe
Submitted By: Jonathon Howe
Back to News