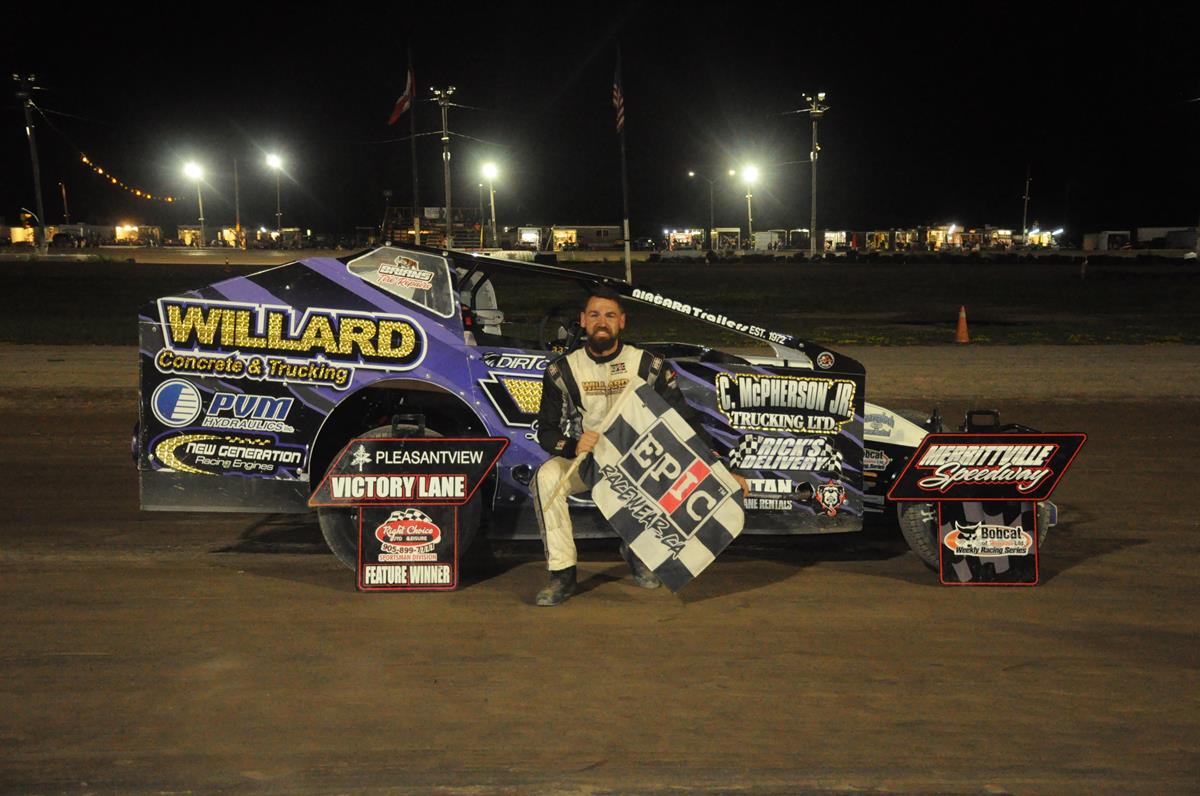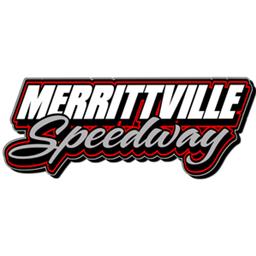 8/7/2022
Merrittville Speedway
---
MCPHERSON DOUBLES DOWN ON NIAGARA EMPLOYMENT HELP CENTRE NIGHT AT MERRITTVILLE SPEEDWAY
THOROLD, ONTARIO (August 6th, 2022) … It was a unique night at Merrittville Speedway with the Right Choice Auto and Leisure Sportsman running two features. St. Catharines, Ontario native Cody McPherson won the both the rescheduled Canadian Grand Nationals feature as well as the Bill Willard Sr. Sterling Silver Cup. Mat Williamson of St. Catharines, On. won in Corr/Pak Merchandising 358 Modifieds. Mark Fawcett from Canfield, On. scored the win in the Hoosier Stocks. The Rona Doidge Mod Lites feature went to Thorold, Ontario's Brent Begolo and Tyler Lafantaisie also from Thorold, found victory lane in the Vansickle Pet Valu/PV on the Lane 4 Cylinders.
Dave Flannigan Jr. led the Corr/Pak Merchandising 358 Modified's to green, as well as much of the opening half of the race. The first caution of the feature came with 13 laps to go when Dalton Slack's car came to a halt on the back stretch. On the restart, Flannigan got gobbled up by the likes of Mat Williamson, Brad Rouse, and Ryan Susice. Williamson took the lead on the high side out of turn four shortly before another caution would come out when Todd Gordon spun. Williamson drove away on the restart, winning his 8th feature of the season at Merrittville Speedway. Susice was second, Gary Lindberg third, Rouse fourth and Chad Chevalier fifth.
The Right Choice Auto and Leisure Sportsman's first feature of the night was the make up race for the Canadian Grand Nationals event that was rained out on August 1st. The caution came out early, as Brad Rouse, Jason VanMil and Billy Bleich Jr. got together. The caution fell again when Doug Walsh spun on the restart. Lap six saw a crash in turn three and four, that involved nine drivers. The wreck began when Terry Smith and Taylor Vanderzanden got hooked together and more piled in with nowhere to go. Eventually, the field would get a long green flag run which allowed Cody McPherson to get out front and pace the field. James Friesen nearly caught McPherson as Cody's car faded, but lap traffic fell perfectly into McPherson's hands. McPherson held off Friesen to grab his first win of the night. Greg Panunte, Rob Knapp, and Billy Bleich Jr. rounded out the top five.
The second Sportsman race of the night was contested for the Bill Willard Sr. Sterling Silver Cup. Noah Mamo started on pole alongside Jason VanMil. Lap four saw the events first caution for Rob Knapp. Mamo would lead much of the early part of the race, with McPherson working his way forward from 10th starting spot. After taking the lead, Panunte would chase down McPherson for the lead but a caution with 9 laps to go halted progress. On the restart, Panunte got the lead, but bobbled on turns 3 and 4, allowing Cody to get by once again, and after contact, Panunte spun collecting James Friesen and heavily damaging both vehicles and bringing out the red flag. Once the race restarted, no one could touch McPherson and he made it two for two. Jordan Cosco came home second, Nelson Mason third, Jay Mallory fourth and Darrell Farraway fifth.
The Hoosier Stocks ran caution free but there was no shortage of action. Jason Fontaine and Zach Bleich started on the front row, with Fontaine leading a handful of laps early. Rob Murray worked his way out of a tight bottle for second, then caught Fontaine and made the pass for the lead. Murray would then be caught by Mark Fawcett, who took the lea with four laps to go. Murray ended up second with Dave Bailey third, Zach Bleich fourth and Jason Fontaine finishing fifth.
Mechanical failures had bit Brent Begolo the previous two nights he had been on track with the number 16 Mod Lite. On Saturday, the Rona Doidge Modified Lite feature saw Brent return to his winning ways. Begolo comfortably held of Josh Sliter, with the lead never dipping below a second and a half for the final 10 laps. Sliter finished second, Ryan Anderson with a great run in third, Sean Iftody finished fourth and Rob Misener rounded out the top 5.
Vansickle Pet Valu/PV on the Lane 4 Cylinder action began with Sam Iftody on pole with Mason Anderson alongside. Anderson, however, would be involved in the features only caution when he was turned by Clinton Barrick on lap 1. The race ran caution free from there, which gave Tyler Lafantaisie plenty of time to make his way to the front from 13th. Lafantaise claimed yet another feature win in the 4 cylinders, beating Austyn Werstroh, Trevor DeBoer, Jeremy Hughes, and Vincent Pagnotta to the stripe.
Bobcat of Hamilton Weekly Racing returns August 13th at Merrittville Speedway on Fan Autograph Night presented by Niagara Trailers. Don't miss your chance to grab an autograph from your favourite driver. Corr/Pak Merchandising 358 Modified's, Right Choice Auto and Leisure Sportsman, Hoosier Stocks, Rona Doidge Modified Lites, and Vansickle Pet Valu/PV on the Lane 4 Cylinders will all be in action. Pit gates will open at 5:00 pm, grandstands open at 5:30, and racing will begin at 7:00 pm.
Follow Merrittville on social media including Facebook (facebook.com/MerrittvilleSpeedway), Twitter (@Merrittville), and now Instagram (@merrittvillespeedway). For results, point standings, and more, check out the brand new www.merrittvillespeedway.com
RACE RESULTS –- August 6th, 2022
Corr/Pak Merchandising 358 Modifieds – MAT WILLIAMSON (8), Ryan Susice, Gary Lindberg, Brad Rouse, Chad Chevalier, Shayne Pierce, Fred Carleton, Luke Carleton, Pete Bicknell, Scott Wood, Dave Flannigan Jr., Mike Bowman, Boyd MacTavish, Ryan Ferri, Todd Gordon, Dylan Davidson, Tanner Podwinski, Tom Neale, Brandon Gruhl, Dalton Slack.
Qualifying Heats – Fred Carleton, Ryan Susice, Brad Rouse
Right Choice Auto & Leisure Sportsman, Canadian Grand National feature – CODY MCPHERSON (6), James Friesen, Greg Panunte, Rob Knapp, Billy Bleich Jr., Adam Leslie, Jay Mallory, Justin Sharp, Jordan Cosco, Trevor Wright, Curtis Friesen, Jason VanMil, Terry Smith, Nelson Mason, Taylor Vanderzanden, Noah Mamo, Nathan Peattie, Doug Walsh, Matteo Panunte, Chris Hawkins, Jeff Panunte, Daniel McKay, Brad Rouse, Jim Harbison (DNS), Spencer Smolders (DNS)
Right Choice Auto & Leisure Sportsman, Bill Willard Sr. Sterling Silver Cup – CODY MCPHERSON (7), Jordan Cosco, Nelson Mason, Jay Mallory, Darrell Farraway, Noah Mamo, Rob Knapp, Justin Sharp, Billy Bleich Jr., Jeff Panunte, Taylor Vanderzanden, Trevor Wright, Chris Hawkins, Matteo Panunte, Nathan Peattie, Doug Walsh, Jason VanMil, Greg Panunte, James Friesen, Adam Leslie, Curtis Friesen, Daniel McKay, Terry Smith, Brad Rouse
Qualifying Heats – Cody McPherson, Adam Leslie, Greg Panunte
Hoosier Stocks – MARK FAWCETT (2), Rob Murray, Dave Bailey, Zach Bleich, Jason Fontaine, Jim Lampman, Kyle Pelrine, Donny Lampman, Brad Sheehan, Jeff Larmet, Gofast Teeple, Trevor Want, Kyle Haynes, Kevin Kocarik, John Couture, Jesse Duguay, Terry Larmet
Qualifying Heats: Rob Murray, Jason Fontaine
Rona Doidge Modified Lites – BRENT BEGOLO (7), Josh Sliter, Ryan Anderson, Sean Iftody, Rob Misener, Tyler Winger, Leroy Buscumb, Cohen Corbett, Ryleigh Sliter, Gavin Hill, Dave Cornish, Dillan Sliter, R.J. Pietz, Greg Zack
Qualifying Heats – Josh Sliter, Brent Begolo
Vansickle Pet Valu/PV on the Lane 4 Cylinders – TYLER LAFANTAISIE (8), Austyn Werstroh, Trevor DeBoer, Jeremy Hughes, Vincent Pagnotta, Clinton Barrick, Brian Aube, John Lubeck, Hana Rothwell, Dustin Duga, Sam Iftody, Richard Hadler, Randy Alway, Dave Winniger, Cierra Keus, Nic Parent, James McDonald, Mark Deagle, Ken Hair, Mason Anderson, Jordan Denobriga
Qualifying Heats – Brian Aube, Ken Hair, Vincent Pagnotta
---
Article Credit: Jonathon Howe
Submitted By: Jonathon Howe
Back to News