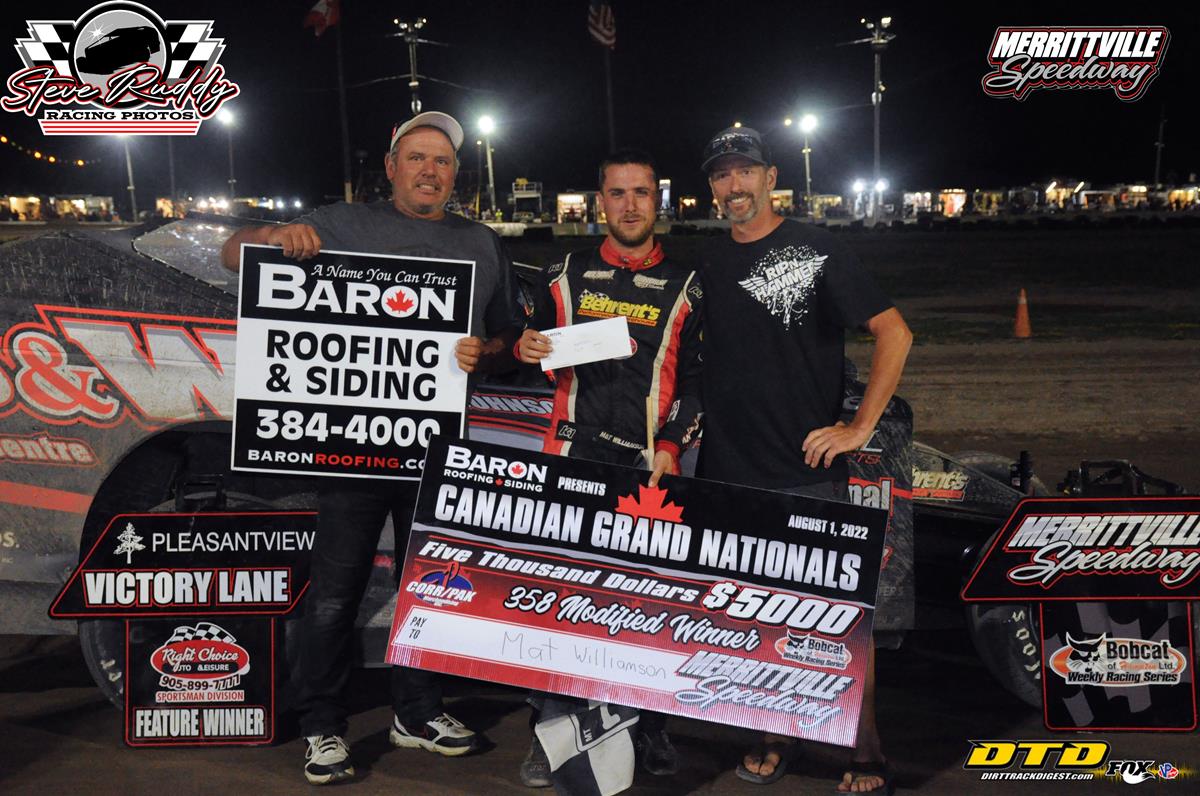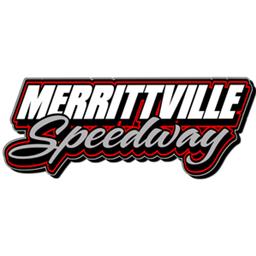 8/2/2022
Merrittville Speedway
---
WILLIAMSON WINS, RAIN SHORTENS THE INNAUGURAL CANADIAN GRAND NATIONALS BY ONE FEATURE
THOROLD, ONTARIO (August 1st, 2022) … The Inaugural Canadian Grand National's presented by Baron Roofing at Merrittville Speedway were weather shortened, with rain coming before the end of the Hoosier Stock feature. The Canadian Grand Nationals featured some of the highest payouts in the region (thanks to Baron Roofing adding an addition $7500 to the purse), drawing healthy fields in all 5 divisions and a car count totaling 123. Four out of five races were completed with Mat Williamson of St. Catharines, Ontario winning the marquee 71 lap Corr/Pak Merchandising 358 Modified feature. Dave Bailey from Hagersville, On. took home the win in a shortened Hoosier Stock feature. Port Colborne, On. native Josh Sliter won in Rona Doidge Modified Lite feature action, and Kyle Rothwell won the Vansickle Pet Valu/PV on the Lane 4 Cylinders feature to open the night. The Right Choice Auto and Leisure DIRTcar Sportsman will have their feature race made up at a later date to be determined.
The Corr/Pak Merchandising 358 Modifieds ran 71 laps at Merrittville Speedway on Monday night in recognition of the tracks 71st season of operation. With the winner set to walk away with $5000, Gary Lindberg and Steve Bernier lead the field to green. Lindberg led early, surviving a restart on lap 7 after Todd Gordon's spin brought out the first caution. Like Carleton brought out the second caution on lap 27, Lining Lindberg up with Chad Chevalier. Chevalier would grab the lead, but it was short lived as Erik Rudolph took the lead after a restart on lap 33, completing the pass and driving away. It appeared to be Rudolph's night as he led a large portion of the second half of the event. However, a caution with 8 laps to go for Dylan Davidson brought Mat Williamson back to the leader Rudolph. Restarting on the outside, Williamson was able to take lead from with 6 to go and hold on to steal the win late. The win was Williamson's seventh at Merrittville on the season. Erik Rudolph was second, Gary Lindberg third, Ryan Susice fourth and Steve Bernier fifth.
Jason Fontaine started the Hoosier Stock feature on pole alongside Steve Shaw Sr. Caution's flew early and often in the feature, the first of which came at lap four when Brock Gregory suffered a flat tire. Dave Bailey quickly made his way up from fourth place where he started, taking the lead from Fontaine before caution came out again on lap seven when Brad Sheehan stopped on the pit entry. One lap later, John Couture spun and yellow flew again. Bailey continued to lead on the restart, while Ryan Beagle took second spot. Lap 11 saw Kyle Pelrine and early contender Fontaine get hooked together out of corner 4. Bailey held off Beagle's charge on the restart before fifth and final caution came out on lap 14 as Steve Shaw and Zach Bleich tangled together in corner two. The sky opened and the racetrack was quickly lost, leaving Dave Bailey the winner of the rain shortened event. Bailey collected $2500 for the win, while Beagle took second. Chris Hale, Rob Murray, and Mark Fawcett rounded out the top five.
The Rona Doidge Modified Lites began their feature with Tyler Winger and Chris Watson up front. Brent Begolo who started fifth, wasted no time getting to the front, taking the lead from Rob Misener only a few laps into the event. Josh Sliter who started 12th was in hot pursuit, working up to second in under 10 laps. As Sliter was closing in, Begolo's car suddenly slowed to a stop with 5 laps to go. Sliter would survive the single file restart to drive away with the win over Sean Iftody, Misener, Winger and Leroy Buscumb. Sliter collected $1300 for his efforts.
The caution waved early in Rona Doidge Building Centre Modified Lites action when Greg Zack spun on Lap 3. On the restart, Brent Begolo made his way through the field to take the lead. Josh Sliter attempted follow Begolo's tracks, who he started along side in row four. However, clean air helped Begolo build a lead that never fell below .6 of a second. A caution with 2 laps to go for Ryan Anderson, set up a single file green-white-checkered finish. Josh Sliter had a great restart but would be unable to complete the pass, giving Begolo win number 6 of the season. Sliter was second, Sean Iftody third, Rob Misener fourth and Dillan Sliter 5th.
Kyle Rothwell made the most of his outside pole position in the Vansickle Pet Valu/PV on the Lane 4 Cylinder feature event. Rothwell took the lead from his teammate Clinton Barrick. Tyler Lafantaisie, another TMR team car arrived in the top three positions within a few laps, racing side by side with Barrick for several laps. Caution fell with 4 laps to go, when Richard Hadler was turned off turn four. A lap after the restart, Barrick lost a wheel, which set up another single file restart, this time with three laps to go. Rothwell gave Lafantaisie room, but the 96 car could never muster enough speed to pass Rothwell. Rothwell took home the win in the Insta-Panels Duel on the Dirt combined event in the 4 cylinders, collecting $1300 and the checkered flag. Lafantaisie settled for second, with Trevor DeBoer third, John Lubeck fourth and Jeremy May fifth.
Bobcat of Hamilton Weekly Racing returns August 6th at Merrittville Speedway on Niagara Employment Help Centre night. The Right Choice Auto & Leisure DIRTcar Sportsman will contest the Bill Willard Sr. Stirling Silver event. Corr/Pak Merchandising 358 Modified's, Hoosier Stocks, Rona Doidge Modified Lites, and Vansickle Pet Valu/PV on the Lane 4 Cylinders will also be in action. School Bus Racing will conclude the event, with Kids Box Car Races happening as well. Pit gates will open at 5:00 pm, grandstands open at 5:30, and racing will begin at 7:00 pm.
Follow Merrittville on social media including Facebook (facebook.com/MerrittvilleSpeedway), Twitter (@Merrittville), and now Instagram (@merrittvillespeedway). For results, point standings, and more, check out the brand new www.merrittvillespeedway.com
RACE RESULTS –- August 1st, 2022
Corr/Pak Merchandising 358 Modifieds – MAT WILLIAMSON (7), Erick Rudolph, Gary Lindberg, Ryan Susice, Steve Bernier, Chad Chevalier, Fred Carleton, Mike Bowman, Pete Bicknell, Dalton Slack, Shayne Pierce, Luke Carleton, Ryan Ferri, Scott Wood, Todd Gordon, Dylan Davidson, Boyd MacTavish, Tom Neale, Tanner Podwinski, Brandon Gruhl, Glenn Styres, Derek VanMil, Brad Rouse, Tyler Willard, Dave Flannigan Jr.
Qualifying Heats – Erick Rudolph, Steve Bernier, Gary Lindberg
Hoosier Stocks – DAVE BAILEY (7), Ryan Beagle, Chris Hale, Rob Murray, Mark Fawcett, Steve Shaw Sr., Pete Reid, Justin Ramsay, Zach Bleich, Donny Lampman, Jim Lampman, Kraig Handley, Remington Price, Jaren Israel, Gofast Teeple, Jeff Larmet, Jason Fontaine, Dave Small, Brock Gregory, Kyle Pelrine, Scott Dunn, Trevor Want, Kevin Kocarik, Jeff Bean, John Couture, Jeff Humphry, Brad Sheehan
Qualifying Heats: Chris Hale, Jason Fontaine, Jim Lampman
Rona Doidge Modified Lites – JOSH SLITER (3), Sean Iftody, Rob Misener, Tyler Winger, Leroy Buscumb, Ryan Anderson, Chris Watson, R.J. Pietz, Dave Cornish, Dillan Sliter, Dan Kviring, Tim Anderson, Cohen Corbett, Greg Zack, Ryleigh Sliter, Gavin Hill, Craig Martin, Brent Begolo
Qualifying Heats – Rob Misener, Brent Begolo, Josh Sliter
Vansickle Pet Valu/PV on the Lane 4 Cylinders – KYLE ROTHWELL (2), Tyler Lafantaisie, Trevor DeBoer, John Lubeck, Jeremy May, Cole Hardy, Brian Aube, Ken Hair, Vincent Pagnotta, Fabio Olivieri, Sam Iftody, Jason Tolton, Jordan Denobriga, Mark Deagle, Randy Always, Austin South, Richard Hadler, Cierra Keus, Mason Anderson, Clinton Barrick, Jay Moulton, Scott Simpson, Danny Wurster, Anthony Kelly
Consolation Race: MARK DEAGLE, Danny Wurster, Anthony Kelly, Mason Anderson, Scott Simpson, Austin South, James McDonald, Dustin Duga, Jacob Mcintyre, Crystal Soules, Austyn Werstroh
Qualifying Heats – Vincent Pagnotta, Tyler Lafantaisie, Ken Hair
---
Article Credit: Jonathon Howe
Submitted By: Jonathon Howe
Back to News