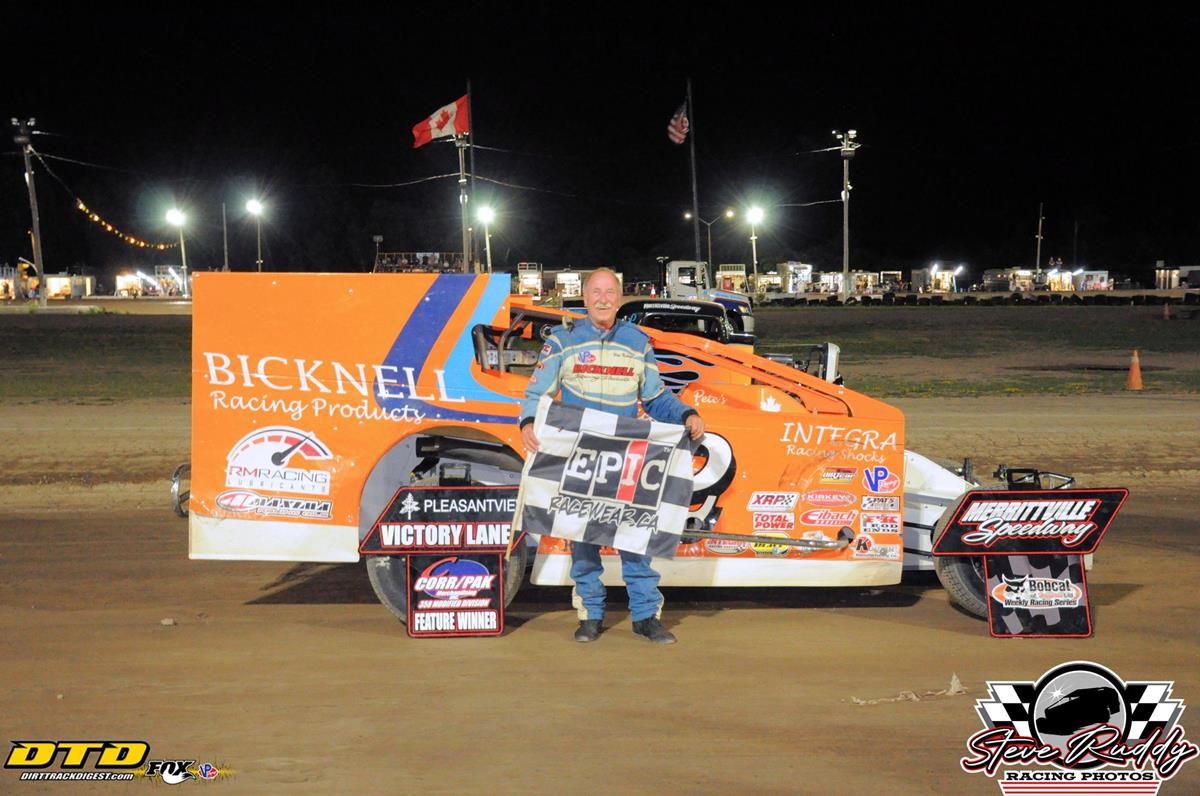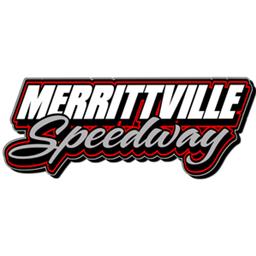 7/24/2022
Merrittville Speedway
---
PETE BICKNELL CAPTURES JERRY WINGER MEMORIAL ON NOSTALGIA NIGHT AT MERRITTVILLE SPEEDWAY
THOROLD, ONTARIO (July 23rd, 2022) … Family and history were on display on Saturday night at Merrittville Speedway as Fastek Inc presented Nostalgia Night 2022. The evening began with the inductions of Bill Spiece and Brian Halliwell to Merrittville Speedway Wall of Fame presented by CAA Niagara and Auto F/X Graphics and Signs. Robert "Mouse" Young and Phyllis Mallory were honoured with the CAA Dedication to Racing Award as part of the ceremony as well. As part of the festivities, the Modified's raced in the Jerry Winger Memorial which was won by Pete Bicknell of St. Catharines, Ontario. Niagara Falls, On. native Nelson crossed the finish line first in the Right Choice Auto & Leisure Sportsman but was later disqualified. Donny Lampman of Caistor Centre, On. scored the win in the Hoosier Stocks. Port Colborne, Ontario's Josh Sliter won the Rona Doidge Modified Lites feature, and Andy Imbeault captured the win in the vintage class.
A staple of Nostalgia Night at Merrittville Speedway has become the 50 lap Jerry Winger Memorial 358 Modified feature. On a night where two local racing legends joined the Wall of Fame, it was a driver who has already received the honour who captured the win in his 50th season of racing. Pete Bicknell lined up on row number one outside pole sitter Brad Rouse. Rouse led early in the race but suffered a mechanical problem just a few laps into the event. From there, it would be Bicknell who would inherit the lead and never looked back. Under green conditions, Bicknell's car was stuck to a fast racetrack like glue. Multiple cautions flew in the first 20 laps of the event, and Bicknell would control each and every restart from the inside line. Some of the best names in 358 Modified racing did all they could to track down Bicknell including Ryan Susice, Fred Carleton, Mat Williamson, and Gary Lindberg. However, there was no denying "Mr. Small Block" who captured his second feature win of the year at Merrittville Speedway after winning the season opening Spring Sizzler.
The Right Choice Auto & Leisure DIRTcar Sportsman feature was held as the last race of the night and marred by a scary looking wreck involving Curtis Friesen. The red flag was brought out when Friesen's car flipped and came to rest at the entrance to corner 1, which resulted in a lengthy red flag. When racing resumed, Nelson Mason who started sixth, was tasked with holding off some hard charging competition including teammate Taylor Vanderzanden. James Friesen would get past Vanderzanden and close on Mason in the final two laps. Mason held off Friesen by less than car length at the finish. However, both the first and second place drivers were found to be in violation of the DIRTcar rule book and were disqualified due to a non performance related safety infraction, receiving no points or prize money for their positions. Taylor Vanderzanden finished third with Justin Sharp fourth, and Terry Smith fifth.
It was an all Lampman front row in the Hoosier Stocks, with son Donny lining up alongside dad Jim. While Jim Lampman faded, it was Donny who established himself as the car to beat, leading early. Lampman would be able to extend his lead as drivers jockeyed for position from second to eighth in the running order through the first half of the race. Kyle Pelrine, and Dave Bailey were able to get to Lampman, creating three car and, even three wide battles for the lead. However, Donny Lampman would keep it wound up on the outside and no one was able to clear the 28D, leading to his second feature win of the season at Merrittville. Mark Fawcett emerged late to claim second, while Pelrine was third, Bailey fourth and Pete Reid fifth.
The Rona Doidge Modified Lite world was put on notice as Josh Sliter claimed his second win of the season. Sliter, who had struggled throughout much of the early part of the season before getting a feature win two weeks ago, started 7th and quickly made his way forward in the field. Dominant driver in the Mod Lites in 2022 Brent Begolo, tried to keep pace with the 17 of Sliter, but Sliter proved too strong and Begolo would have to settle for second. R.J. Pietz, Sean Iftody and Tyler Winger rounded out the top 5.
Andy Imbeault opened the night of feature by winning the Vintage Class race. The "Flying Frenchman" took the field of veterans to school, winning easily. Mark Shadwell rallied to a second-place finish, with Bill Montreuil third, Doug "Flash" Gordon fourth and Tim Natalino fifth.
Bobcat of Hamilton Weekly Racing returns July 30th as Merrittville Speedway hosts Exclusive Imprint night. A full card of racing includes the Corr/Pak Merchandising 358 Modifieds, Right Choice Auto & Leisure DIRTcar Sportsman, Hoosier Stocks, Rona Doidge Modified Lites, Vansickle Pet Valu/PV on the Lane 4 Cylinders, and V6's. It's also a doubleheader weekend, as Baron Roofing presents the inaugural Canadian Grand Nationals on Monday August 1st. The 358 Modified's will compete for a $4000 to win prize, while the DIRTcar Sportsman and Hoosier Stocks run for $2000. $1000 will be awarded to winner of the Mod Lites feature as well as the winner of the St. Catharines Husky Duel on the Dirt in the 4-cylinder class. Fans will also get in on the winning, as one lucky fan will win $1000, and one lucky kid in attendance will go home with 1000 pieces of candy. Pit gates will open at 5:00 pm, grandstands open at 5:30, and racing will begin at 7:00 pm.
Follow Merrittville on social media including Facebook (facebook.com/MerrittvilleSpeedway), Twitter (@Merrittville), and now Instagram (@merrittvillespeedway). For results, point standings, and more, check out the brand new www.merrittvillespeedway.com
RACE RESULTS –- July 23rd, 2022
Jerry Winger Memorial 358 Modified 50 Lap Feature – PETE BICKNELL (2), Ryan Susice, Fred Carleton, Mat Williamson, Gary Lindberg, Chad Chevalier, Shayne Pierce, Scott Wood, Dalton Slack, Ryan Ferri, Dylan Davidson, Dave Flannigan Jr., Tanner Podwinski, Derek VanMil, Boyd MacTavish, Todd Gordon, Brandon Gruhl, Mike Bowman, Brad Rouse
Qualifying Heats: Chad Chevalier, Shayne Pierce, Dalton Slack
Right Choice Auto & Leisure Sportsman – NELSON MASON DQed, James Friesen DQed, Taylor Vanderzanden, Justin Sharp, Terry Smith, Cody McPherson, Darrell Farraway, Greg Panunte, Billy Bleich Jr., Mitch Dumont, Rob Knapp, Adam Leslie, Jason VanMil, Trevor Wright, Jay Mallory, Chris Hawkins, Spencer Smolders, Daniel McKay, Matteo Panunte, Nathan Peattie, Brent Begolo, Curtis Friesen, Noah Mamo
Qualifying Heats: Noah Mamo, Jason VanMil, Curtis Friesen
Hoosier Stocks – DONNY LAMPMAN (2), Mark Fawcett, Kyle Pelrine, Dave Bailey, Pete Reid, Jason Fontaine, Zach Bleich, Rob Murray, Brad Sheehan, Jim Lampman, Kacey Huffman, Gofast Teeple, Jeff Larmet, Chris Schneider, Kyle Andress
Qualifying Heats: Donny Lampman, Rob Murray
Rona Doidge Modified Lites – JOSH SLITER, Brent Begolo, R.J. Pietz, Sean Iftody, Tyler Winger, Ryan Anderson, Dan Kviring, Leroy Buscumb, Cohen Corbett, Dillan Sliter, Rob Misener, Dave Cornish, Greg Zack, Ryleigh Sliter, Gavin Hill, Craig Martin, Chance Kotar, Chris Watson
Qualifying Heats – R.J. Pietz, Sean Iftody, Ryan Anderson
Vintage Car – ANDY IMBEAULT, Mark Shadwell, Bill Montreuil, Doug Gordon, Tim Natalino, Conrad Baker, Jeff Larmet, Hanna Ferrell, Bill Profota, Jeff Murrell
---
Article Credit: Jonathon Howe
Submitted By: Jonathon Howe
Back to News