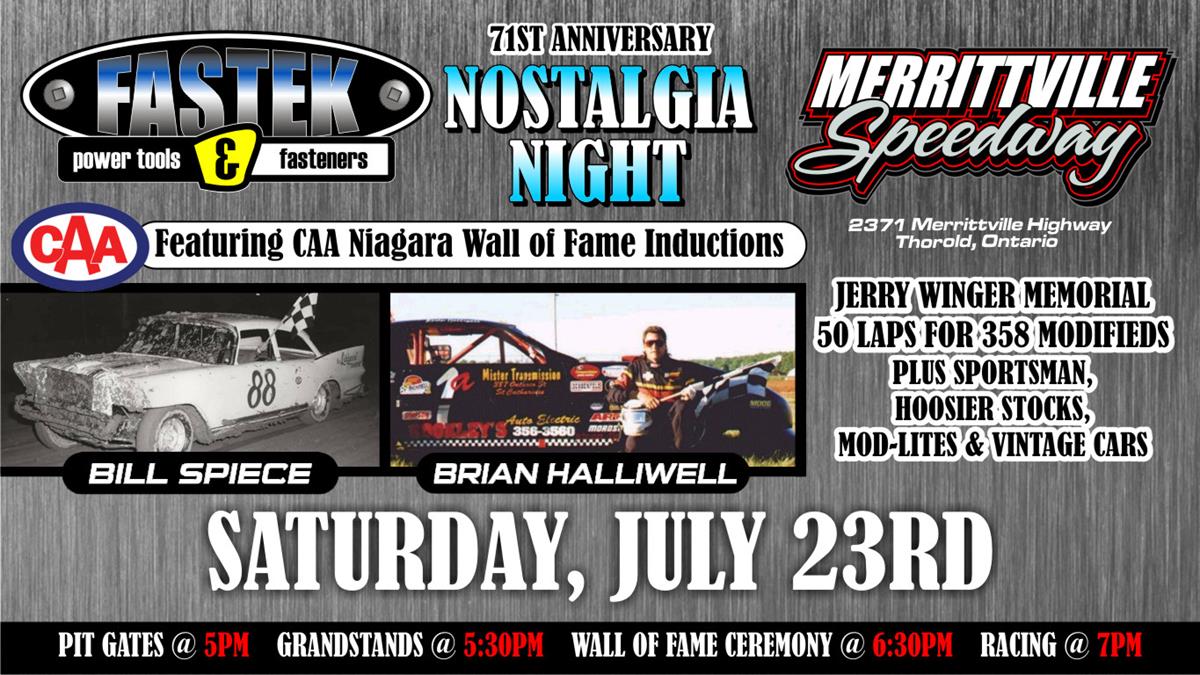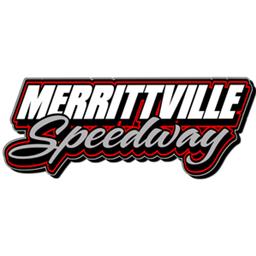 7/18/2022
Merrittville Speedway
---
Fastek Inc. presents The Jerry Winger Memorial and CAA Wall of Fame Night This Saturday Night
THOROLD, ONTARIO (July 18, 2022) … Merrittville Speedway will be inducting two new members into the CAA Wall of Fame as well as race the Jerry Winger Memorial for the Corr/Pak Merchandising 358 Modifieds this coming Saturday night at Merrittville Speedway.
Bill Spiece and Brian Halliwell will be the two newest inductees into the CAA Wall of Fame at 6:30 pm Saturday. The pre-race ceremonies will also put the spotlight on two more honorees in the CAA Niagara Dedication to Racing Awards are bestowed upon Phyllis Mallory and Robert 'Mouse' Young
The Jerry Winger Memorial dates to the 1959 Season when it was established after an up-and-coming racer and Point Champion Jerry Winger passed away due to illness. In the beginning, Jerry raced his own cars and won his first championship at Merrittville Speedway in 1953. Jerry Winger was at the top of his sport in 1957 and would capture the points championship at his home track Merrittville Speedway. From 1958 on, Jerry developed an illness that would limit his driving in 1958 and 1959. During the 1959 season, the condition called nephritis claimed his life.
One solemn night in 1959, Murray Stricker drove Winger's car on the track one final time. When parked in front of the grandstands, the #10 was peeled off the car permanently. The owners of Merrittville Speedway decided to retire the #10 forever and to this date, no Modified racer can race as the #10. Also, in 1959 the Jerry Winger Memorial Trophy was initiated by his former car owners Hugo "Butch" Bogusat and Al Aalto. Every year after there would be a special race to compete for the trophy.
Fastek Inc. has been providing tools and fasteners to construction professionals for over 28 years. They opened in 1993 in Niagara-on-the-Lake as a one-product line distributor of nailing systems servicing all of Southern Ontario. Since opening, they now have locations in Hamilton and Barrie. Fastek now offers everything from tool sales, to repairs, and more. From their modest roots in Niagara-on-the-Lake to their three locations across Ontario; Harry Klassen and the Fastek Inc. team have worked hard listening to the needs of our customers, and stocking products to fill their needs. For more information about Fastek Inc, find them online at www.fastek.ca
The Corr/Pak Merchandising 358 Modifieds will be joined by the Right Choice Auto & Leisure Sportsman, Hoosier Stocks, RONA/Doidge Building Centres Mod Lites, and Vintage Cars.
The Grandstands will open Saturday, July 23rd at 4:30 pm for Alumni only and 5:30 for the public. Pit gates for competitors will open at 5:00 pm. The CAA Niagara Wall of Fame and Dedication to Racing Awards Ceremony will begin at 6:30 pm followed by racing at 7:00 pm. Race fans will surely want to check out the Vintage Race Cars on display in the grandstand area in addition to the Memories Wall of photos inside Honker's Turn 1 Bar created by Auto FX Graphics and Signs.
Follow Merrittville on social media including Facebook (facebook.com/MerrittvilleSpeedway), Twitter (@Merrittville), and now Instagram (@merrittvillespeedway). For results, point standings, and more, check out the brand new www.merrittvillespeedway.com
---
Article Credit: Steven Petty
Submitted By: Doug Leonard
Article Media
Back to News